19 Reasons Louisville Should Be Your Next Family Vacation
by Lindsay Ferrier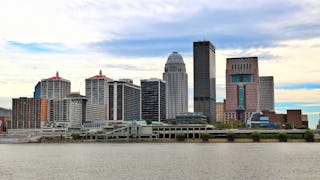 LINDSAY FERRIER
Louisville is probably best known as home of the Kentucky Derby, but this historic Southern city is absolutely loaded with charm, culture, and plenty of family-friendly attractions. After several visits, I'm convinced everyone needs to add a Louisville family vacation to their travel bucket list. Check out this list of our favorite places to play, eat, and stay and you'll understand why.
WHERE TO PLAY
The Kentucky Derby is a once-in-a-lifetime experience, but with kids in tow, Churchill Downs' non-Derby days are far more fun. Horse races are scheduled here throughout the year (check the calendar for dates), as well as Family Adventure Days, which include race day activities just for kids. Come early in the day for the most family-friendly experience — you can place bets on the horses and easily find a front row seat to watch the races up close. While you're there, be sure and stop in at the Kentucky Derby Museum for a fascinating look at the Derby's history.
With more than 1,200 animals, the Louisville Zoo is a must-visit for vacationing families. In addition to penguins, giraffes, gorillas, bears, elephants, orangutans and more, the Louisville Zoo also has a splash park, zoo trains, a carousel, camel rides, and a ropes course. My kids particularly loved the keeper talks at the zoo's award-winning Glacier Run exhibit, which includes both polar and grizzly bears. We've gotten to visit a lot of zoos during our travels and the Louisville Zoo is definitely one of the best.
There's no better place to see Louisville's skyline and get amazing family vacation photos than on a Belle of Louisville riverboat cruise. Take a relaxing two-hour ride on this 104-year-old historic paddle wheeler, learn about the history of Louisville and the Ohio River, and enjoy a lunch even your pickiest eaters will devour. (You can't go wrong with fried chicken, mac and cheese, rolls, and pie!) You'll have your own table on this cruise, so bring activities to keep the little ones busy while you kick back and enjoy the scenery. Cruises run June through October.
This historic railway bridge was built back in 1895 and opened to the public as a pedestrian bridge in 2013. Today, you and your family can cross over it from Louisville's Waterfront Park to Jeffersonville, Indiana. The entire trip over and back is about 2 miles, so this definitely qualifies as a family hike. Before you go, be sure and print out these activity sheets designed just for the bridge walk by local author Kenny Karem: Exploring the Big Four Bridge and Exploring the Ohio River.
This former limestone mine beneath the city was closed for decades before private investors bought it and turned it into a popular Louisville attraction. Because it was man-made, it's actually classified as a building and at 4 million square feet is considered to be the largest building in Kentucky! Choose between the world's only underground zipline tour, a historical tram tour, a ropes course, or an electric bike tour. And bring a jacket — the cavern's temperature is a chilly 58 degrees year-round.
This recently-reopened amusement park has more than 70 rides and waterslides, including five roller coasters. Ticket prices are a bargain compared to other parks ($39.95 — the second day is free if you're from out of state) and lines most days aren't very long. In fact, midweek visitors have been reporting that lines are almost non-existent. This alone makes Kentucky Kingdom a winner in my book!
WHERE TO LEARN
Louisville's Museum Row makes it possible to spend a pleasant afternoon exploring multiple museums, all within walking distance. Buy Main Tickets and you can see everything Museum Row has to offer at a greatly discounted price. Here are our favorite family attractions:
Perfect for kids under 12, this interactive science museum is filled with hands-on exhibits that will help your child learn and have fun at the same time. My 11-year-old was obsessed with the museum's water play area, and he also loved experimenting with the wind tubes and building his own roller coaster with modular track pieces. There's something here for children of all ages and stages to enjoy.
Sports fans won't want to miss touring the famous Louisville Slugger Museum & Factory, where bats have been made since 1884. Here, you'll learn about the history of the bats and the players who made them famous, walk through the heart of the production line, and end the tour with a mini-bat to call your very own. Even if you opt out of the experience, be sure and get a family photo in front of the gigantic bat outside — it's an iconic downtown Louisville snapshot!
Learn the incredible story and core principles guiding the life of Louisville native Muhammad Ali at this interactive museum celebrating the world's most famous boxer. Visitors rave about this experience, which is both informative and deeply moving.
We were pleasantly surprised by how much we enjoyed our visit to this museum on our most recent trip to Louisville. We spent over an hour in the Lewis & Clark Experience on the museum's fourth floor, where we learned the fascinating story of Lewis & Clark's Corps of Discovery at kid-friendly, interactive stations. Your kids will also likely go crazy over the museum's historic miniatures collection, where nearly 25,000 toy soldiers and other figures are on display. And don't miss the museum's original Steiff Teddy Bear: it's a great opportunity for kids to learn the history behind it.
WHERE TO EAT
There's no need to resort to chain restaurants while you're in Lousiville. Some of the city's most popular restaurants are perfect for family dining.
I'm all about restaurants that are fun for both kids and adults, and The Irish Rover definitely fits the bill. Located in Louisville's trendy Clifton-Crescent Hill neighborhood, this cozy Irish pub is a longtime local favorite. Try the smoked salmon & potato gratin and you'll understand why. In addition to Guinness shipped over from Dublin, you'll find authentic Irish favorites like bubble and squeak, cottage pie, and sticky toffee pudding, as well as a $3.95 kids' menu that includes Irish and American favorites.
We always like to have one "Big Night Out" on our family vacations and The Mayan Cafe is definitely my pick when in Louisville. While the staff warmly welcome children, the restaurant is small and there's no kids' menu (although the chef will happily make a delicious quesadilla with chips and salsa on request), so I recommend this restaurant for families with kids who like to try new things and can stay in their seats. That said, my whole family fell in love with the Mayan-inspired menu here, most of which was new to us. We were so obsessed with the Sikil-pak, an addictive pumpkin seed dip, that I made my own version as soon as we returned home. The rabbit (with grilled cactus!) was another favorite and my salmon was cooked to perfection and accompanied by delicious tok-sel lima beans and malanga cake. I can't wait to go back the next time we're in Louisville and give the equally interesting lunch menu a try.
After dinner at The Mayan Cafe, head to Louisville Cream for dessert! This small batch gourmet ice cream shop is always packed with the after-dinner crowd and their ice cream flavors are unforgettable. From Bourbon Smoked Pecan to Pistachio Honeycomb to plain old vanilla (made two ways) and chocolate, there's something here for just about every palate.
No visit to Louisville is complete without a visit to J. Graham's Café inside the historic Brown Hotel for an iconic Hot Brown sandwich. Invented at the Brown Hotel in 1926, the Hot Brown is an open-faced turkey sandwich topped with bacon and Mornay sauce, and no one does it like The Brown Hotel. Most say one Hot Brown is big enough for two. The Café is also one of the few places where you can get a slice of authentic Derby-Pie®, made exclusively by Kern's Kitchen. This pie is the real deal, apparently, and is made using a closely-guarded secret recipe. All other so-called "Derby Pies" are mere copies.
Havana Rumba meets all my criteria for the perfect family restaurant. It's incredibly popular with locals, easy on the budget, the food is wonderful, and it's perfect for families with kids of any age. We visited the Middletown location and gorged ourselves on Frita Vaca (crispy grilled shredded beef with peppers, onions, garlic and lime juice) and Lechon Asado (Cuban pork marinated in citrus juices, garlic, and Cuban spices and slow roasted for hours). You'll find highchairs and a kids' menu here, as well as a big, loud, friendly environment that pretty much ensures your cranky toddler will go unnoticed by other diners.
Come for the perfectly-roasted coffee, stay for the best chocolate chip cookies I've ever eaten (and honey, I've eaten some chocolate chip cookies in my time). Please & Thank You is a small-batch Southern bakery and coffee house with three locations in Louisville. Lucky for us, one of those locations was right across the street from our hotel. That's how I discovered my new favorite coffee shop. We stopped in at least once a day, both for the coffee and for more of those phenomenal cookies. Don't miss this place, y'all.
WHERE TO STAY
We loved this modern European-style hotel in the heart of Louisville's hip NuLu neighborhood. The rooms are spacious, the staff is friendly, and the whole hotel smells heavenly. I have an issue with funky-smelling hotel rooms (I mean, who doesn't?) so the fact that the AC is scented is a major plus. Even better, you're in easy walking distance from eateries The Mayan Cafe, Louisville Cream, Please & Thank You, and Muth's Candies, as well as three of my favorite quirky Louisville shops: Revelry, Red Tree, and the awesomely bizarre Joe Ley Antiques, which takes up all three stories of a turn-of-the-century school building.
Not only does this popular waterfront hotel boast stunning views of the Ohio River, it's also a short walk from Museum Row, Whiskey Row, and plenty of other downtown Louisville shops and restaurants. Stay here and you'll literally be at the center of everything.
A Louisville classic since 1923, this downtown hotel gets rave reviews from its guests and is perfect for those who love historic, Grand Hotel-style accommodations. A recent $12 million renovation has ensured guests have all the modern conveniences, including hi-def television and high-speed Internet. Former guests include the Duke of Windsor, Harry Truman, Elizabeth Taylor, Joan Crawford, Muhammad Ali, Jimmy Carter, George H. Bush, and Barack Obama.
You're all set now for a fabulous Louisville vacation. I wish I could join you. This city really does have so much to offer and I can't wait to return.
As a member of the media, the author received standard CVB media access to certain attractions. All opinions are her own.
This article was originally published on