To The People Who Ask 'Isn't It Hard To Love A Kid Who's Not Your Own?'
by Tamara Andréa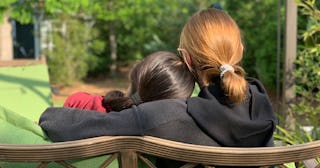 Courtesy of Tamara Andréa
When I first became a bonus mom, I already had my hands full with three biological children of my own. I had lots of experience in parenting different personalities and a successful co-parenting relationship with my ex. What I expected was to love my stepdaughter (she was a pretty likable kid), support my husband in his parenting role, and help establish a stable home environment after an acrimonious divorce. I never expected to love her as much as I loved my own children or to feel like my heart had grown a few sizes overnight.
Maybe it helped that my stepdaughter and I "clicked right away," as she likes to say. Maybe it's that I didn't feel the need to "mother" her at the beginning and was patient about how our relationship developed. Or maybe it's that there were really no opportunities to treat one child differently when there are three others under your roof who demanded equality.
The health of a stepmom and stepchild relationship is crucial for the family unit to thrive. I'm sure if we hadn't "clicked," my husband and I would have thought twice about getting married. Maybe if all of the kids hadn't developed an inconceivably close bond instantly, we'd be looking at a very different situation. But, we did and they did, so here we are!
The question I now dread most is, "Isn't it hard to love a child that's not your own?" I mean, would you ask that of someone who's adopted a child? The love I feel for this quirky, often dramatic, resilient kid only differs in that I haven't had the pleasure of being there to see her grow up from the ages of 0-6. There are lots of stories and funny experiences that I have to learn about through their re-telling. But meeting someone when they are older doesn't mean that your bond can't be incredibly strong or that your love for them isn't as valuable.
Although I'm sure she was a bit shell-shocked when she first came to live with us (being an only child and suddenly being thrust into an energetic home with three other kids will do that to you), I never thought about treating her differently. She was assigned the same chores, expected to behave in the same ways — to show politeness and kindness towards others, and most of all, to be be respectful.
The only way things were different parenting-wise was in the way we disciplined. When she misbehaved, I stepped aside and let her dad handle it. When she got stressed about going back to her mom's house after a fun filled weekend with her siblings, her dad was the one who took her for a walk and talked to her. If she had a complaint, I let her dad take that one too. It not only helped to strengthen their relationship, it also helped her see that although I parented her in many ways, I was not there to "replace" anyone.
So to answer the question, "Is it hard to love a child that's not your own," no. Not for me. I've had my own specific journey to motherhood with my stepdaughter. It just may look a bit different than the normal path. I didn't carry her for nine months and excitedly prepare for her to be born, picking out baby outfits and wondering what she would look like. I missed the joys of her first smile, her first word, her first steps.
What I did experience was the beautiful excitement of knowing she'd be coming into my life permanently, the getting-to-know-her phase as I figured out her likes and dislikes, the first steps of a close bond forming when she started to trust that ours was a forever family, the joy of helping her achieve things she didn't think she could achieve, and…there have been plenty of "firsts" since I've known her. I've been proud of all of her accomplishments, all of her successes and I've held her close when she's had her fair share of disappointments. She craves my attention when she's with us. I crave for hers when she's not. Biology doesn't lead to love. It's the commitment to your child that does.
We are Scary Mommies, millions of unique women, united by motherhood. We are scary, and we are proud. But Scary Mommies are more than "just" mothers; we are partners (and ex-partners,) daughters, sisters, friends… and we need a space to talk about things other than the kids. So check out our Scary Mommy It's Personal Facebook page. And if your kids are out of diapers and daycare, our Scary Mommy Tweens & Teens Facebook pageis here to help parents survive the tween and teen years (aka, the scariest of them all.)
This article was originally published on