Magazine Offers 'Body Type' Swimsuit Guide For 8- To 12-Year-Olds
by Sharon Holbrook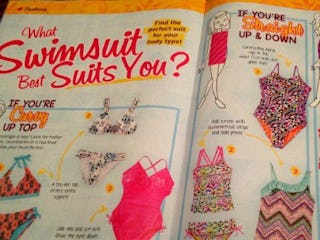 Sharon Holbrook
Discovery Girls is an award-winning tween magazine that supposedly aims to help 8- to 12-year-olds form "a positive sense of self." Yet the current (April/May) edition has a three-page swimsuit spread with tips for finding "the perfect suit for your body type!"
If my daughter, an 8-year-old second-grader in the magazine's target age group, were a subscriber, she could read tips like:
– "If you're straight up and down, add curves with asymmetrical straps and bold prints!" And, "contrasting piping nips in the waist."
– "If you're rounder in the middle, busy geometrics draw the eye inward!"
– "If you're curvy on the bottom, pull the attention up with dramatic details on top!"
Ugh. My 8-year-old's sole criteria for swimsuits are whether she thinks they have cute patterns, colors, and details—in other words, whether she likes them. She has absolutely no self-consciousness about her body when she wears a swimsuit. I'd like to keep it that way for as long as possible.
She doesn't need to be worried about finding to a suit to "add curves" to her absolutely normal prepubescent body. She doesn't need to be worried about nipping in her waist nor distracting from a childishly round tummy. She doesn't need to "pull the attention up" from her curvy bottom. (To further complicate this problematic article, the offending curvy bottom appears to belong to a girl with African-American features in the accompanying sketch.)
It seems so obvious that instead of promoting healthy attitudes about their bodies, this kind of article could prompt girls who used to have healthy attitudes about their bodies to suddenly look in the mirror with new eyes, now craning over their shoulders to see if their butt is big and thinking if they should perhaps "try a suit with a swim skirt."
Magazines are a lot of work to produce. Many, many eyes from writing to editing to production see and carefully craft each article. How can a mistake like this happen? Apparently Catherine Lee, publisher of the magazine, is just as baffled as I am. In an open letter posted on the Discovery Girls Facebook page on Tuesday, Lee said in part:
"It's still hard for me to believe that an article so contrary to our magazine's mission could have been published on our pages. […] The article was supposed to be about finding cute, fun swimsuits that make girls feel confident, but instead it focused on girls' body image and had a negative impact. Nobody knows better than Discovery Girls how impressionable our girls are at this age and we are ALWAYS mindful of this."
I'm still confused, because this doesn't seem at all mindful of the impressionability of young girls, so how can it be "ALWAYS," Ms. Lee?
Further, this isn't the first time a supposedly girl-strong company gave insulting body advice to elementary-age girls. Last year I wrote about a similar blunder made by the Lego Friends magazine, which offered "beauty tips" on haircuts to suit the face shapes of 5- to 12-year-olds. Unfortunately, my daughter did read that one, and immediately asked whether she had an oval face shape because, unlike the other lesser shapes which needed special haircuts, "almost anything looks great on this face shape!" After a worldwide media flap, Lego did apologize.
Yet here we are again, a year later. We don't want to have to keep saying it. But we will if we have to, and we will say it even louder: "HELPFULLY" POINTING OUT DIFFERENCES IN GIRLS' BODIES AND TELLING THEM HOW TO FIX THESE DIFFERENCES IS UNACCEPTABLE.
Let them be children, and leave their bodies alone. Period.
This article was originally published on