Meet the PAW Patrol Toys That Are About to Fully Become Members of Your Family
Whether your kids are PAW Patrol vets or new to the pups of Adventure Bay, there's a toy here that they'll absolutely love.
by BDG Studios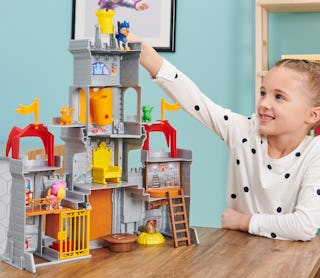 Saying pre-schoolers love PAW Patrol is akin to calling water wet. The show, which chronicles the adventures of a group of supremely talented canines is suffused with the kinds of values — teamwork, leadership, bravery, and service among them — that any parent would want their kid to absorb at a young age. The expansive line of toys inspired by the series give kids opportunities for pretend play that incorporates those values while having tons of fun with their favorite characters.
There's something for everyone here, from a ferocious dragon to a tricked-out fire truck. All are designed to keep kids entertained for extended periods of time. For them, that means creating childhood memories and enjoying the benefits of playtime. For you, that means time to get other stuff done or simply relax a bit while keeping an eye on your kid during playtime.
An Imagination Kickstarter
A Constant Companion
An Instant Collection of Characters
A Plus-One to Every Birthday Party
An Engaging Way to Practice Helping
A Truck That Can Take a Beating