Mom Accidentally Gives Daughter NSFW Thermos For Christmas
by Amelia Sull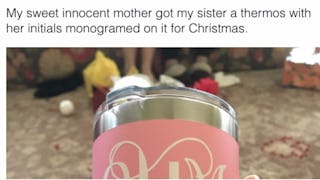 Image via Reddit
You probably won't see this thermos around the office
An innocent mom who just wanted to make sure her daughter's beverages stayed warm has the internet cackling. For Christmas, she gifted her daughter a pink thermos with her initials in white. The only problem is that her initials are used to describe something else as well.
"My sweet innocent mother got my sister a thermos with her initials monogrammed on it for Christmas," wrote Snowy_Boy on Christmas day. He shared a picture of the thermos on Reddit, where it quickly went viral for its NSFW factor.
Can you imagine how uncomfortable that daughter felt after she unwrapped the gift? Her brother must have been cracking up. We bet they debated not even telling their mom to save her the embarrassment and themselves the task of having that awkward conversation. Plus, she could probably just peel the lettering off and enjoy the thermos without ruining mom's Christmas joy.
People were kind enough to share their own uncomfortable monogram stories, too. One person wrote: "For real part of why I kept my maiden name was to avoid ANL." That sounds like the right decision. Another person shared their hilarious gift story in the comments: "My grandma once gave my brother a t-shirt that said 'sure could go for a' with a picture of a hummer… She figured it was a cool car, who wouldn't want a hummer?"
And we can't forget about the mom who bought some cute new throw pillows because she loved the purple "flowers." It turns out that the floral arrangement was really a penis-pattern that is super popular and can be bought from several stores. Who knew?
Then there was the adorable grandma who accidentally purchased some naught ornaments for the Christmas tree this year. Alex Bermingham shared the story of how her 74-year-old grandma picked up some sparkly decorations for the tree. The extra sparkle turned out to be lavender glitter g-strings tucked inside each plastic bauble.
It isn't like thermos mom is the first mom to make an innocent mistake when it comes to gifts. And we're sure she won't be the last. But considering how much our moms do for us every day of the year, we should just smile and say thank you when they gift us with a work-from-home only mug.
This article was originally published on