Moms Of Littles, Don't Let Experienced Moms Make You Feel Bad
by Ellen Hunter Gans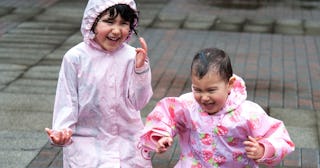 G. Curt Fiedler / Getty
"Ohmigod, I miss when my kids were that age. Soak up every moment."
That's what a woman said to me at the drug store as I was in line for antibiotics for my sixth consecutive bout of mastitis. I had my second son strapped to my blazing, aching chest while I had a vice grip on my 2-year-old to keep him from clotheslining the entire feminine care aisle.
Side note: the drug store may or may not have security footage of me quasi-straddling the aforementioned 2-year-old in between the security gates as he tried to sprint out the door, while the motion-sensor doors opened and closed in perfect choreographed harmony with every shriek and flail.
I wasn't soaking up anything except for gauzes on my cracked nipples and the increasing suspicion that I had, in fact, ruined my life by deluding myself that I could handle one kid, let alone two.
One kid feels like one.
Two kids feels like twenty.
And even one kid….is a lot of kids.
Lest I come across as too negative, let's back up a bit with the obligatory gratitude: Yes, gratitude is obligatory to appease the trolls, but it's also genuine. Getting and staying pregnant is inordinately difficult for me and I spent my life savings and a good part of my sanity on the process. I thank whatever higher power is out there every day that I was lucky enough to be born in an age where someone like me can have kids.
But even if my sons had been the product of a bit of cheap tequila and a relaxed Thursday night, my perspective would be the same:
I'm honored to be a mother.
But HOLY SH*T, this is hard.
And it's especially hard when the whole world magically forgets how hard it is at each stage.
It happens everywhere. At the park. At the library. In line at the drug store. While you're being waxed.
"Just wait 'til they walk. That's when it gets hard."
"Just wait 'til they're two. That's when it gets hard."
"Just wait 'til they start sports and activities. That's when it gets hard."
"Just wait 'til they start stealing the neighbors' Xanax and knock up the superintendent's daughter. That's when it gets hard."
I'd like to make a proclamation: How about we not fearmonger moms, eh? Because we're all going to project based on the stage we're in.
And we're always, always going to have rose-colored glasses about the stages gone by.
I see you, moms of kids under 3.
And I will never, ever tell you to soak up anything.
Because you're in the weeds.
You're "on" 24 hours per day, 7 days per week.
You're in a state of constant vigilance.
Even if you're pretty chill by nature, mommy culture is bent on making you freak the eff out about everything. It's all deadly: Sunscreen. Ladders at playgrounds. Bunny crackers.
The world wants you to lose the baby weight and crush it at work and show your kids flashcards and limit screen time and interview preschools and nuture their potential and let the baby lead in choosing finger foods and expose them to Mozart and meanwhile you're like:
"DRY SHAMPOO IS BULL BECAUSE IT LASTS FOR LIKE 2.5 APPLICATIONS AND I HAVEN'T SLEPT SINCE I WAS FOUR MONTHS PREGNANT AND I DEEPLY RESENT MY HUSBAND BUT I CAN'T RATIONALLY ARTICULATE WHY AND I JUST CALLED THE BABY THE DOG'S NAME AND I'M JUST TRYING TO KEEP EVERYONE ALIVE."
And then the lady at the drug store makes you think that you're supposed to be savoring it. Soaking in every moment. It's like sand through your fingertips. POOF, the moment's gone.
Please hear me: You're doing great. You're in survival mode, and that's exactly where you're supposed to be.
I get all schmoopy when I see babies who still scrunch their knees up to their chest when they get picked up. But I also know that with all that schmoopy knee-scrunching comes sleepless nights and unrelenting anxiety and second-guessing and self-doubt.
Does this mean you can't enjoy the phase you're in? Of course not. Sniff that baby's head. Let their giggles make your postpartum curtain (you know exactly what I mean) waggle with joy. Rejoice when your toddler runs into your arms, shouting "MAMA!" with glee. It really, truly, is good stuff.
But DO NOT let us moms of older kids shame you into feeling guilty that you're not adequately savoring the moment. For most of us, at best, it's a giant blur annotated by a few choice beautiful moments (brought to our attention primarily by "on this day" apps on social media, if we're being honest).
Nostalgia is perfectly normal and understandable. But it's not a reason for guilt. You've got enough on your plate, mama. You do you. Hang in there. Survival mode isn't permanent. There will always be challenges to contest with, but you already know that. You don't need a jaded nostalgic mom shaming you into worrying in advance.
And when you emerge from the weeds, you'll see a mom with a schmoopy knee-scrunched baby and you'll think, "Awww. Sweet baby." And you'll tell her that her baby is cute. And you'll recommend some nipple-cracking cream if she asks, and you'll leave it at that. And you'll continue onto the future knowing that you can handle whatever stage comes next.
This article was originally published on