by Aline Weiller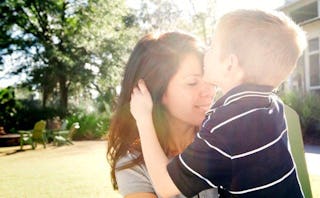 Motherhood is knowing how to love your child. My secret is shapeshift parenting tailored to each one, that allows them to feel loved for who they are.
I'm in the throes of raising two teenage boys, taller than me, yet still my babies. In their now defined, shaven faces, I catch glimpses of their younger selves. My older son, Grant, nearly sixteen, was a runner out of the womb. I was the exhausted mom driving my two-year-old around until he fell asleep. He's still all legs. Legs that used to flap as I lifted his sleep-filled body en route to his big boy bed, legs that have carried him through adolescence, legs that will walk him through adulthood. Grant stands tall at 5' 10". He's a budding man, shy and polite, the type you take home to mother. His 5th grade teacher said Grant was the "kindest child she'd taught in 30 years." Not always to his brother, but it's still a story I'll recount at his rehearsal dinner.
My tender side emerges when mothering Grant. I initiate hugs after school and he willingly reciprocates, his lanky body curving until our heads touch. No words are exchanged as he is a man of few. I found mind reading a challenge and soon learned not to ask Grant yes and no questions, but rather linger in his presence and wait for stories to spill out. I've been known to watch ESPN just to find out about his day. He seldom asks for homework help, but requested I review a video he'd made about tolerance of those with mental disabilities. I was bowled over by the insight — his deep narrator's voice, advocating acceptance over exclusion. Grant spoke of notions I'd instilled a decade before. My mommy rules had stuck, absorbed in his early psyche and called forth for this high school project. Grant had heard me — on the playground, in the kitchen and at bedtime when parenting messages are lovingly reinforced. With Grant, I am my most gentle self — affirming and peaceful. Quietly, I mold to his needs.
My younger son, Cameron, calls for the very opposite. He thrives on fun. With him, I'm the cool mom who laughs about Saturday Night Live and drives a car load of boys to the movies, then hosts sleepovers for five. Junk food included. Cameron is chatty and energy-laden, bursting through the door with tales of middle school shenanigans.
"Mom, we decided at school — all my friends are coming over after the Social. You're picking us up," said Cameron, an event planner in the making.
His family nickname is "the mayor." He requires my full-on attention and loves a captive audience. With Cameron I am always on, ever-engaging and present to him. There are times I'd prefer quiet, but know he is buoyed by lively interaction. Cameron demands my playful self and I oblige. He is also the child, who at 8:00 Sunday night, mentions a science project that's due Monday, prompting a frenzied trip to CVS for poster board.
Cameron, too, has a way with adults — we joke he was born a 45-year-old man. He speaks of movies and menus, local news and weather with many a friend's parent. And they relish it. I've gotten a range of comments from both mothers and fathers, applauding his quick wit and adult demeanor. He is confident. Maybe it was my backing — and filming — of his early Star Wars Legos sagas that encouraged Cameron's boyhood imagination. Maybe it was my listening to his backseat celebrity impressions instead of my station's Top 40 Countdown. Or just maybe it was buying that life size Karaoke Santa at his begging, whose microphone he used to hone a talent show stand-up routine. No matter the mothering tactic, I knew Cameron loved to showboat and I let him. In his Two's nursery school class, I volunteered for picture day. I was the mom wiping faces and combing hair. When lining up the children, I noticed Cameron was the smallest. I mentioned this to his teacher who quickly said, "Only in stature!" My work with him had begun to blossom.
So motherhood is many things. It's a kaleidoscope of perceptive personas who meet your child where they are. It calls for flexibility and patience; it calls for selflessness. Early years may require middle-of-the-night stamina to rock and sing lullabies to a colicky newborn. Or perhaps, to finger paint with your pre-schooler on a rainy day. Later on, we may morph into a therapist or spin master, when our tween has a brush with betrayal. Even later, we may act as a haven for the anxious high schooler, awaiting college acceptance.
"You'll be a good mother because you had one," my father told me while pregnant with Grant.
I'm fortunate to have my mother, who still parents me the way I need her to. She gets it. Motherhood is an enduring race where you are replenished by love's electrolytes and your children are the winners. As I parent our boys, I not only hear my late father's words, I own them.
This article was originally published on