20 Must Do's During The Ninth Month of Pregnancy
by Diana McDevitt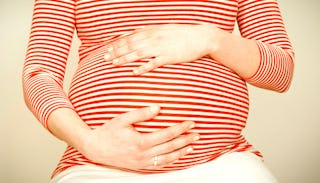 If you're in your ninth month of pregnancy, the end is in sight – but you still have a few weeks, so check some of these must-do items off your pre-baby list.
1. Treat yourself to a mani/pedi. Not only do you deserve some pampering, but your hands will feature prominently in a zillion photos of your new bundle of joy. Plus, you'll likely be doing a bunch of shuffling around in flip flops post labor.
2. Pack a "going home" outfit for baby. You'll most likely keep your newborn swaddled in (awesome) hospital blankets until you head home, so no need to bring cute outfits for wearing in the hospital, but don't forget to pack that Instagram-worthy outfit and hat. #Homewardbound!
3. Go on a date or 6. It's tough to predict when you'll next head out solo with your significant other. Take advantage of the last few weeks by doing things as a couple before your family grows by one or (eek!) more.
4. Upgrade your phone storage. You are about to become the next Anne Geddes, at least in your world, taking so many photos and videos of your baby that you'll hit your storage max quickly. Don't let that video of your baby's first coo get cut off because you feel too guilty to erase the 75 pictures you took of the first stroller walk. (Back-up apps like Carouselcan be a lifesaver.)
5. Speaking of photos, research a newborn photographer. Get some recommendations from friends, then get the low down on fees (there can be a big difference between the cost of having them taken and actually getting them printed). Photographers like to do these in the first two weeks of life, so do the legwork now so you're not scrambling to hire one in a sleep-deprived, zombie-like state.
6. Ask for a foot rub. Cankles or not, propping your feet up and having them rubbed will feel ah-mazing. Your significant other or anyone within arms reach of your perch on the couch will do. (You've earned it – and it's pretty hard to turn down a woman who can't reach her own feet.)
7. Sign up for Amazon Prime. If you haven't already, do it now, because ordering baby supplies from your phone and receiving them within two days is one of the greatest conveniences in the modern world.
8. Invest in a nice, new yoga outfit. Kate Middleton left the hospital with a bump, and you will too. The good news about not being a princess is that yoga clothing is acceptable as everyday wear. Purchase an outfit that is comfortable and makes you feel good (don't get too ambitious on sizing), and you can wear it leaving the hospital and when visitors swing by. Grab a headband and some dry shampoo too, since washing and drying your hair will become a luxury.
9. Make new playlists. You'll never be so grateful to Steve Jobs for putting 1,000 songs in your pocket than when you're a new parent. Make a playlist for the hospital, one for car rides or long walks with baby, and one with some soothing, mellow tunes that will keep you and baby relaxed. Your Pandora will be set to Raffi station for the next 6 years, so enjoy your favorites now.
10. Fill up your Netflix queue. Also, download some page-turners to your Kindle. Newborns nurse or bottle feed 10 to 12 times a day, for 20 to 30 minutes at a time (and that's once you both get the hang of it… in the earliest days, it can be an hour or more). That's a lot of time captive in a glider or on your couch, and we survived it by reading the Hunger Games and re-watching 30 Rock and Arrested Development in their entirety.
11. Prepare for the postman. Purchase thank you note cards, because there's usually a torrent of baby gifts after baby is born. While you're at it, organize an address list or even print labels to prep for sending birth announcements.
12. Tinker. All that gear you bought or received still sitting in its boxes? Set it up and play around with the buttons, straps, and handles. You don't want to get caught holding a crying newborn while trying to unfold a stroller for the first time with one hand.
13. Stock up on staples. Head to the grocery store and grab a bunch of non-perishable items like Granola bars, pasta, cereal, even some of that milk in a box. (Bonus points for anything that can be eaten one-handed.) There will be times in the early days when you can't get out of the house and will need a quick meal. Don't forget the coffee and wine, obviously.
14. Wash some of the baby's new clothes. Leave the tags on the rest,because there's no way to know what's going to fit (and for how long).
15. Download a noise machine app. Whether its the sound of a fan, the ocean, or even a hairdryer, there's an app for that, and baby will love it.
16. Research Mommy and Me classes. They may not seem like your cup of tea now, but in a couple of months, being in a room with other moms in your overtired shoes will feel like a lifesaver.
17. I need somebody, not just anybody, Help! Make a list of caregivers you're comfortable with, and let them know they're on it in case you need emergency coverage in those early weeks.
18. Use a vacation day. Whether you're still working or not, take a day just for you. Appreciate being alone and doing anything at your own pace. It'll be a long time until you'll stop feeling like a rushed Supermarket Sweep contestant every time you leave the house.
19. Spend time in stores with breakable items. Because the next time you should is in 18 years.
20. Sleep. Take naps, go to bed at 8pm, sleep until noon, just because you can. Or at least snooze as long as possible until your bladder forces you out of bed.
This article was originally published on