My Child's Birthday Is Not About You
by Isabelle Simard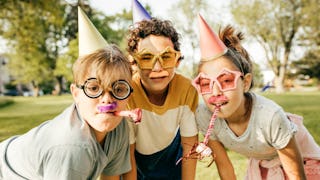 kate_sept2004 / Getty
Facebook and Instagram feeds are all about showing off amazing, over-the-top, big, huge birthday parties for little ones.
These days, parents are all about slapping their credit cards down to throw their not-even-school age children the biggest, most amazing birthday party ever. Instagram feeds of "Little Johnny's 2nd birthday" with 10+ kids and 20+ parents surrounding them at places and halls. I know friends who have always thrown their kids birthday parties, from their very first birthday and spend on average $500 per child, per birthday. THAT is absolutely ridiculous to me.
For our son's first birthday, we have never received so much negative feedback on how we proceeded to do things. We decided after much consideration to have a small get together at my parents' house (for space purposes) from 3:30 p.m. to 5 p.m. to celebrate his birthday over pizza. I ordered my son one of those giant cupcakes. It was blue and vanilla flavored. He took a very small lick, shook his head, and pushed it aside. (I ate it all over a period of a week, yumm).
My mother (his nana), decorated his high chair with banners and a little Mickey Mouse hat. My sister (his godmother), his uncle and niece came, along with my brother (his uncle), and my grandmother (his great-grandmother) on my dad's side. That's it. That's all. We invited my husband's side of the family and they did not come. Otherwise, there was absolutely no room for friends, extra kids, more family. And it was perfectly fine and appropriate for us that way.
Despite the "small number" of guests, our son felt very overwhelmed as all eyes were on him. I don't even think we stayed an hour. I posted a few pictures of him in the high chair to show our friends and family on Facebook, and that was that.
But I received a text message from a so-called friend a few days later that read: "My daughters are extremely sad that you did not invite them to your son's birthday. We have a gift for him, let us know when we can bring it for him, as we are all very upset."
While I would like to believe this friend's "intention" was not to make me feel bad about not inviting them to my son's intimate birthday celebration, I was very flustered to receive such a message. As if I did something wrong. As if these people were entitled to be invited over and included over anyone else. And how did the daughters know it was even his birthday? Something did not add up. This person was simply entitled, misinformed and wanted to make me feel bad. Period.
An actual, close friend also expressed her sadness. "I'm so sad that you guys didn't invite me to his birthday!" But after explaining that there was no "party," she was a little more understanding. But why did I have to explain myself? I shouldn't.
Just because you choose to spend $500 a year on your kids' birthday parties and invite 30+ people does not mean that we have to, or that we owe it to you to invite you over. That is just not us. We are very modest people. Neither one of us grew up having our very own birthday party with friends and our parents' friends' kids until we were 7-8 years old. Our son is 1! And guess what? When he turns 2, we are also not going to rent a hall, go to the big fancy play parks or anywhere else.
My child's birthday is not about you. So maybe next time you get offended that you're not included, think about how involved you are for the rest of the year and how you can alter your interest by not making it an expectation.
This article was originally published on