Being Pregnant Is Not 'Letting Yourself Go'
by Kate Spencer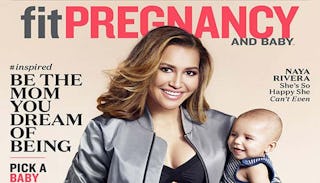 Glee star Naya Rivera says she "let herself go" while pregnant, then lost 60 pounds post-childbirth
Glee actress Naya Rivera is on the cover of Fit Pregnancy and Baby magazine detailing her experiences as a new mom. It's the usual "celebrity had a baby, omg!" story, with cute anecdotes about poop diapers and her hunky husband playing guitar to help their baby fall asleep. But the crux of the story is about Naya quickly losing "60 pounds of baby weight," and honestly, we can't even.
The first line of the story is an eye-roller: "Naya Rivera is headed to the gym—a place the 29-year-old has become very familiar with since having son Josey just 8 months ago." The magazine goes on to say that the actress has, "worked tirelessly for her new rockin' bod." She adds, "I completely let myself go when I was pregnant. Weight wasn't something I wanted to focus on, so I ate anything and everything and had a blast. Afterward, I was, like, 'Let's get back to business.'"
Let's clear this up: Being pregnant is not "letting yourself go." These words perpetuate a harmful myth about pregnancy and the amazing changes our bodies experience. Almost every woman gains some weight while pregnant, because our bodies are creating another human life. There is nothing wrong with fueling your body while hosting a fetus in your uterus. This idea that pregnancy is some free-wheelin', eat everything in sight, muumuu-wearing party is idiotic and harmful to women. Not only does it stigmatize eating as 'bad,' it feeds into the BS narrative that after childbirth we must eat only salmon fillets and steamed broccoli and get back to the gym ASAP to get our rightful skinny bodies back after losing them to the black hole of pregnancy.
We're glad Naya didn't stress out about her weight during pregnancy. But stressing out about weight after giving birth isn't much better. Self-care after childbirth is huge, and exercise and eating right are a big part of that. But they're not the only thing that will help you heal inside and out. There are huge issues and burdens women face after giving birth – challenges with parental leave and childcare, emotional stresses and depression, and health issues like mastitis. But time and time again, we are told by celebrities and publications like this one that losing weight and getting in shape after childbirth is the most important thing.
Obviously Rivera's physical body is intrinsically tied into her work: she's an actress, and unfortunately our cultural standards all but require women on camera to be stick thin. She hired a trainer, and seems self-aware about her good fortune. "I know I'm lucky," she says. "Not all moms can afford one. But I'm not really self-motivated. And I don't know what to do at the gym. I always feel lost."
Still, she lost 60 pounds in the first four months following childbirth, a time when many of us can barely put on a shirt or leave the house. Like everything else with celebrities, this presents a view of post-childbirth weight loss that is unrealistic and unattainable for most women.
Women go through a lot to get pregnant, give birth, and support their families. We deserve a stronger, more diverse story – one that doesn't limit our experiences to letting our bodies go and getting them back again. After all, they're our bodies – they never left us in the first place.
This article was originally published on