Off To College: Your Complete Guide To Shopping For A Dorm Room
by Lisa Heffernan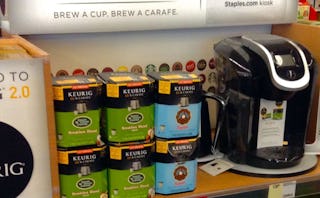 This is part of a three-part series, "Off to College," on preparing your teens before they leave home. In June, we looked at important talks to have with your incoming freshman and what makes students thrive in their first year in college. In August, we will touch upon some of the logistics of moving our kids to college with the collective wisdom of some "been there, done that" moms.
It's midway through the summer before your teen goes to college. You are considering panicking. In the course of only a few weeks, your high school graduate needs to see doctors and the dentist. He needs to buy dozens of things to outfit a dorm room. She needs to hear some of the most important words you will ever say to her. There is a stack of forms to be completed so high that it is clear that all of the forms of his entire childhood were just a warm-up for this summer's pile. He needs to register for the selective service and renew his passport. She needs to sign up for a credit card and a meal plan.
Yet, none of this is happening. She spends every spare minute with her friends, telling you that it will all get done. He sleeps until 10 minutes before he needs to leave for work, waving you off with the kind of rudeness that incites obscene gestures. She comes home late from the movies/diner/hanging with friends and one more day has slipped by without a single thing on the list getting accomplished. You need to plan a way to transport his entire life hundreds of miles, in planes, trains, cars or stage coach, and he won't focus on this for five minutes. Panic looks more and more like a rational response.
I am here to say it will get done. Even kids who cannot wait until the first day of freshman year experience pain and fear of the changes to come. Many seem to cope with this by handing us, their parents, some of the worst behavior, and failing to take on some of their newfound adult responsibilities. So voices may be raised and threats traded, but it will all get done.
I found that even as they ignored the forms and put off the dentist, they were somewhat willing to focus on their dorm. Here are six suggestions for the mother of all back-to-school shopping trips.
1. Find Out What You Are Dealing With
Every dorm and every room is different. Before touching your credit card, insist that your kid find out everything he can about his new home (50 questions to answer). Many schools have the room dimensions and configurations available on their website (often password protected). Your teen should find out how large the room is (rug), how much under-bed space is available (storage containers), what is provided by the school (lamp, trash can, desk chair), the size of the closet (shoe racks, hanging storage), location of the bathroom (carrying toiletries), whether there is air conditioning (fan) and if any appliances are forbidden by the school.
Your teen should contact his roommates and suitemates and coordinate what each is bringing with them. At the risk of having three coffee makers and no microwave, they should coordinate who is bringing a futon, coffeemaker, TV, game console, mini refrigerator, hot water kettle, microwave or anything else they are likely to share.
2. Never Pay Full Price
The average family spends close to $1,000 outfitting their student for college, but there are ways to cut these costs. Many national retailers (The Container Store, Bed, Bath & Beyond, Target, JCPenney and Kohl's) as well as online retailers (Amazon, PBTeen and Dorm Co) that are in the business of outfitting dorms have big sales. During the busy summer season, most offer special discounted in-store evenings, mailed coupons, online sales, gift cards or free shipping.
3. Never Pay to Ship
Buying dorm items and then paying to ship them to your kid's school is something straight out of the 20th century. Many dorm outfitters offer free shipping to campus, and a free six-month trial of Amazon Student qualifies college kids for free two-day shipping on most items. Bed, Bath & Beyond and The Container Store will let you select items in their store in your hometown and then have the items waiting for you (to choose if you want to buy or not) at their store closest to your freshman's school. If you were unable to find much information about the dorm before arriving on campus, this allows you to buy only the items that will work.
4. Talk About Medications Before You Pack Them Up
Kids on prescription medications probably know how to take the right dose. But over-the-counter medications can be confusing, and it is very easy for kids to take the wrong medicine or the wrong dose. Help them stock a small first aid/medicine chest with pain relievers, throat lozenges, decongestants, Band-Aids, stomach remedies, a thermometer and anything else they might need for a minor injury or illness, but then make certain they know what to use and when.
5. Don't Save Money by Buying Cheap
College kids are tough on their belongings. Between the constant moves and their untidy (and let's be honest, filthy) surroundings, it is easy to ruin or break things. The temptation might be to buy less well-made items. But I promise you that you will not want to make this shopping trip four times. Buying decent bed linens, towels and other necessities may cost a bit more at the outset but will save you from dorm shopping every year.
6. Do Not Buy Everything on 'The List'
Your teen's college may have sent you a dorm essentials list, or you may have picked one up at one of the large national retailers. Beware. This is not the third grade back-to-school shopping list from their teacher. This is a generic list and following it to the letter will be a time consuming, costly and unnecessary endeavor. The major retailers have no idea what your student will actually need, so they put every item on the list. Bed risers don't work with bunk beds. Many kids use their phones instead of alarm clocks. Some dorms ban hot water kettles. (Here is a list of what is worth/not worth buying). Sure, look at the list the school sent or the ones online at the major retailers, but before you buy anything, sit down with your teen and talk about how they live. For example, my kids went to school without printers—they could use ones publicly available in their dorms, and most of their papers are turned in electronically (big savings)—but went with a Keurig coffee maker so they stayed away from expensive coffee shops (even bigger savings).
Any item that you think your student might use should be left off their list. College students live in tiny, poorly appointed spaces. They don't have room to store non-essential items. And, most important, they have the Internet and free two-day delivery.
The temptation might be to overbuy. This is our final back-to-school shop and we want our kids to be prepared. But here is the truth: You have been preparing your child for this moment for 18 years. This shopping trip is really just one more day among the thousands of days you have spent in some way getting them ready to go.
There may be a moment, standing amongst the laundry baskets or under-bed storage containers, when it seems like there is something on one of these shelves that will stop the tears that threaten to run down your face, something you can buy that will make it right. But there is nothing in those aisles that will turn back time; it just doesn't work that way.
This article was originally published on