Kids Are Obsessed With These $20 Sneakers
by Amanda Davis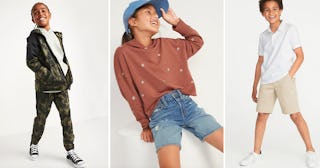 Old Navy
Have you started back to school clothes shopping yet? Because it's that time of year again! The constant (somehow always musical) commercials, the giant section of school supplies at Target, and Old Navy's annual sale remind you that a new school year is near. And even better, it's the aforementioned sale that saves our as**s with cute back-to-school clothes at an affordable cost. Whether your kids are among those heading back for in-person classes or they're still hitting the books virtually, I think it's safe to say that they've grown quite a bit since last year. Stocking up on new back-to-school clothing is definitely necessary.
The great thing about Old Navy's back-to-school sale is that they have everything! Standard school uniforms in khaki and navy, cute and comfy tees, jeans — even socks and undies. And we've found the best of them all to help speed up your shopping process (we know time is sacred these days). Check out the best of Old Navy's Back-to-School Clothing sale below!
Editor's Note: While some categories below are separated by gender, all clothes listed are gender-neutral and can be worn by everyone!
Best Back-To-School Clothes
Back-To-School Clothes For Girls
Back-To-School Clothes For Boys
School Uniforms For Kids