Here's One Way You Can Get Migraine Treatment Right From Your Home
by Team Scary Mommy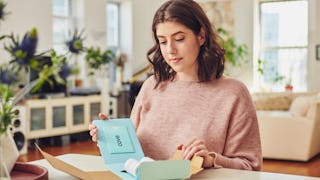 If you're like me and you suffer from migraines, "the worst" doesn't even begin to describe it. It's pretty much a nightmare. And finding treatment that actually works without spending a fortune? That's no picnic either.
But I've found a game-changer. Cove is a subscription service where you can get expert-backed migraine care completely online. In fact, Cove is the only telemedicine service exclusively dedicated to migraine treatment. From the comfort of your couch you can order exactly what you need, and a box is delivered right to your front door. Since we love a subscription service (yas, queen!) we did a little digging to find out if this particular one is worth your time and money.
What Is Cove?
As you know, when you have a migraine, leaving your house to go to the doctor is basically impossible. And when you're not mid-migraine, an in-office doctor visit usually isn't at the top of your incredibly long list. With Cove, you get the kind of quality care you'd expect from an in-office doctor visit, without the hassle of actually going to the doctor. Their licensed doctors recommend personalized treatment plans, which can include FDA-approved medications, natural supplements, or cutting-edge treatment devices. Everything Cove offers is vetted by migraine experts. So you don't need to worry about throwing your money away on some kind of snake oil.
Your recommended treatment is delivered directly to your door every month and you can message your doctor anytime. Compared to visiting a neurologist in person, Cove's offerings are affordable and convenient.
How Does It Actually Work?
Sounds great, right? But you may be wondering how exactly it works. I was curious how an online service could provide treatment for one of the biggest hassles in my life. Well, the future is now, ladies.
Signing up for Cove is quick and entirely online (of course). To make sure you're getting the right treatment for you, the first step is a 15-minute online doctor consultation, which includes the same kinds of questions a neurologist would ask during a traditional doctor visit. Except that you're in leggings. On your couch. And you don't even need dry shampoo.
Your Cove doctor uses the information from your consultation to recommend the best treatment plan for your migraines. But let's say you already know what works for you. (Lucky!) If all you need is to get the same medication you've been using at a lower price, all you have to do is say so.
After you and your doctor come up with the best migraine treatment plan for you, just sit back and wait for everything you need to arrive at your door.
What's The Bottom Line?
Suffering through migraines is so 2000 and late. If you've been struggling to find relief, Cove is the real hassle-free deal. Everything you need to manage your migraines without ever leaving the house? Sign me up! Well, actually, sign you up. Choose your plan, complete your consultation and start your treatment today with Cove. Enjoy more migraine-free days!
Getting control of your migraines is entirely possible with the right treatment plan. Get everything you need delivered to your door – without the hassle of an in-office doctor. Visit withcove.com to learn more.
This article was originally published on