by Jamie Krug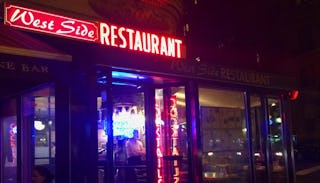 I had been at my friend's house at one of the monthly literary salons she hosts, and it was a beautiful night. The weather had been pretty miserable and rainy for the preceding days and the stillness of the air amidst the bustling Manhattan streets was both welcome and refreshing. Scott had been at an event in the city that evening as well and was planning to pick me up. He was in Midtown and I was on the Upper West Side. We both thought that he'd be done first, but there was a long wait to get his car from the parking garage. And so I began to walk.
I'll just start walking South on Amsterdam and you drive North whenever you get the car. We will probably cross paths somewhere around 72nd, where it intersects with Broadway, I texted him.
Sounds good, he responded.
My shoes were relatively comfortable (for wedges), and I walked these familiar streets, marveling both at how much had changed and how much more had not in the eight years since we had moved out of Manhattan and made our home in the suburbs. The memorial chapel where I had attended the funeral for the grandfather of my childhood best friend was still there, as was the restaurant across the street where I went on one of my worst first dates. There was a new yogurt place, a nail salon I had frequented often when we still lived in the city, a wine store in the same location as before yet since renamed, and yet another yogurt place.
I'm in the car heading up 8th. Where are you? He inquired.
Low 70′s on Broadway, I wrote back.
Stop wherever you are right now, and I'll come get you, he texted me.
I walked the remainder of the block to get to a corner, making it easier to let him know exactly where I was and to get a better view of his car as he came up the street. As the neon sign got closer, I began to smile. I'm here. I thought. Of course, I'd end up here. I took a picture of the diner on the corner and sent it to him.
I'm here!
Be right there.
It was the West Side Restaurant at 69th and Broadway. Our place. The scene of our first date – quite unofficial, and yet seemingly out of every romantic comedy that ever starred the likes of Tom Hanks, Julia Roberts, Hugh Grant, Meg Ryan, John Cusack, or Rene Zellweger (though not all at once).
It wasn't supposed to be a date. I know this, because I wouldn't have been wearing ratty old pajamas, or taken my makeup off first. It was pouring. It was 4 o'clock in the morning. It was the two of us laughing as this veritable stranger, a friend of friends of mine, held an umbrella over my head and I groaned as I stepped one of my flip-flopped feet into one of the murky puddles that had formed.
We sat in a booth by the window and I paid no attention to the fact that my hair was piled atop my head in a messy bun, as we stayed there talking the dark hours into the light. I had pancakes drenched in syrup and he had scrambled eggs and french fries. The sun rose. The rain stopped. We kept talking.
Neither of us will say that it was love at first sight, but we will both confidently say that it was something. There was something there. A spark. Chemistry. A recognition that this was different than anything either of us had experienced before.
We spent three hours in that booth in the early-morning hours of Labor Day of 2002.
And then we dated, got engaged, got married, bought a house in the suburbs, had a baby, had another baby. And it was all so easy. And it was the hardest thing either of us had ever experienced. Our hearts soared and our hearts were broken – both at the hands of others, of fate, of each other. And romance fizzles as you concentrate on the kids, on your job, on your mortgage, on real life.
And you think he's forgotten it all because he's not the romantic type.
And sometimes you think he's forgotten you.
And then it's your 35th birthday and you find yourself hoping he'll go all out and make a big deal. That he has some grand gesture planned, despite knowing that's not his thing. But you hope so anyway because it's your thing.
And he's noncommittal on how you should dress and just says nice and tells you that whatever you pick out will be fine. And what in the damn hell does that mean? It's right up there with festive, or party attire. And you tell your friends that you have no idea what he has planned when they ask in the days leading up to your birthday. And you feel ridiculous building this up in your head because it's so trivial, but you do it anyway because that's who you are and it's what you do. And he says it's a surprise and when you get in the car and realize he's taking you to Manhattan in your sort-of fancy outfit, you find yourself getting excited that maybe he is planning something big and begin thinking of Michelin stars and amuse bouche and multiple courses.
And he parks the car. And you begin walking together. And you are running late because the kids took a little longer saying goodbye and goodnight before you left and you're concerned about missing the reservation but he assures you that it will be fine. And he still won't tell you where you're heading as you listen to your heels click-clack on the uneven sidewalk.
And then you round a corner and you are here. And you begin to cry a little when you realize that it will not be fancy and there will be no amuse bouche and most certainly no Michelin star chef and that you are supremely overdressed.
And that it could not be more perfect.
And that he remembered.
And that he remembers you.
And though there are no reservations at New York City diners, he had called ahead to ask them to save us that booth.
And I had pancakes drenched in syrup and he had scrambled eggs and french fries.
And my fancy birthday dinner came to $26 (with tip).
And there wasn't anywhere else I would have wanted to be, given the choice.
Just as there is no place I want to be than across from him in that booth, or in that car the other night.
Or any other night.
This article was originally published on