20 Reasons Why Panama City Beach Will Rock Your Family's World
by Lindsay Ferrier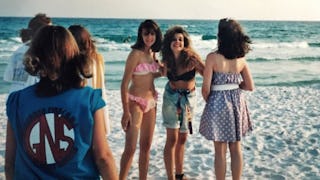 Lindsay Ferrier
I have totally awesome memories of Florida's Panama City Beach from when I was a kid. Back in the '80s and '90s, it was a teen paradise filled with kitschy souvenir shops, colorful amusement park attractions, and sunburned packs of adolescents everywhere you turned.
On our PCB vacations, my girlfriends and I would put on our matching Spring Break airbrush T-shirts and stroll down the sugar white sands in search of cute boys, our spiral perms dutifully scrunched, our lips seductively coated in Dr. Pepper-flavored Bonne Bell Lip Smacker.
Rocking a perm and acid-washed cutoffs in PCB, circa 1990
I don't recall the names or faces of most of the kids I met back then, but I do remember one guy. Wearing nothing but a Speedo and a smile, he'd strut down the beach every evening just before dark, his golden skin glistening with baby oil, his highlighted mullet blowing softly in the breeze. He'd give my friends and me a smoldering gaze as he passed, pausing only to pull out a wedgie before continuing onward into the sunset.
On the last evening of that particular vacation, I gathered my courage and called out to him after he'd walked by. "Hey! Bikini Man!" I shouted, lifting my camera.
Boom.
For years, this photo has pretty much defined Panama City Beach in my mind. Little did I know that while I was busy growing up, getting married, and having kids of my own, PCB morphed into something completely different. The roadside motels were replaced by shining high-rise condominiums. The cheap thrill rides and mini-golf courses gave way to sparkling new shopping centers and seafood restaurants. An international airport opened in 2010, drawing hordes of vacationers from around the world. I brought my family to Panama City Beach last fall, and the place completely stole my heart. We loved it so much, in fact, that we came back again this year for more good times.
Gorgeous water and sugary sand at Panama City Beach
I love Panama City Beach now for its soft, white sands and crystal clear emerald waters. I also love it because there's something here for anyone and any budget. Choose from this list of our favorite things to do at Panama City Beach, and you're pretty much guaranteed the beach trip of a lifetime.
Stay
Finding a place to stay is fairly stress-free in Panama City Beach. There are tons of beachfront condos and the competition to rent them out ensures the vast majority are clean, comfortable, well-appointed, and most of all, reasonably affordable. Expect to pay about $200 a night for a condo that sleeps 4–6 people in the summer high season and around $120 a night in the off-season.
Good luck getting your kid away from the water playground at Splash Resort
We stayed in the ginormous and kid-friendly Splash Resort last year, which boasts three pools, a lazy river, and an impressive water play area. This year, we stayed at Palazzo Condominiums by Wyndham Vacation Rentals and loved our spacious beachfront condo. For those of you who prefer the hotel life, the Holiday Inn Resort gets a big thumbs-up from families. It has a water playground, a lagoon pool, beachfront rooms, and daily activities for kids.
Eat
Good news, peeps: You do not have to break the bank to have a fabulous meal in Panama City Beach. In fact, several of our favorite restaurants here also happen to be some of the least expensive in town.
Finn's definitely has the best tacos in town
Finn's Island Style Grub in the nearby historic St. Andrews community just happens to have some of the best tacos in the entire world if you ask me, as well as seriously delicious cold-brew coffee. Order the Ahi Tuna and Carne Asada tacos when you go, and tell them I sent you. They'll have no idea who I am, but tell them anyway. I dare you.
Thomas donuts: Worth the wait
Donut lovers brave the hour-long wait most mornings for the handmade goodies at Thomas Donut & Snack Shop, but I recommend you skip the lines and go there for an early lunch. The kolaches — sausages wrapped in hot, yeasty rolls — are fantastic and you can have those donuts for dessert.
Delicious desserts at Eat My Pasty
We all love Eat My Pasty, a family pub with a delicious British-themed menu. Try the Thai Green Chicken pasty for a savory treat, and be sure to split one of Aunt Helen's Waffle Berry Pasties for dessert. The burgers and fries are also top-notch. Oh, and for those who like to be in the know, the British pronounce it "PASS-tee."
David's beignets are the bomb
David's Sno-Balls is our go-to spot for authentic New Orleans Sno-Balls (try the "stuffed" version with ice cream inside!) and beignets, but David's also makes the best fried oyster and roast beef po boys I've ever had in my life. Stop by for lunch or an early dinner and laissez les bon temps rouler or something.
Locals love Hunt's Oyster Bar
For straight-up seafood, take a tip from the locals and head to Hunt's Oyster Bar & Seafood Restaurant. And go early if you don't want to wait hours for a table. Here, you'll find delicious and fresh oysters, shrimp, crab legs, and fish in a convivial, no-frills environment.
Fun fact: Obama ate at Firefly when he visited Panama City Beach!
With all the money I've just saved you, you'll be able to splurge on a big night out at Firefly, a gorgeous restaurant that's not only my favorite in Panama City Beach, it's one of my favorites in the whole United States. I'm pretty sure I could eat nothing but Firefly's she crab soup for the rest of my life and die happy, and the pepper-crusted stuffed filet mignon is magnificent. Reservations are a must here, even in the off-season.
Don't forget snorkels, fins, and masks on your trip to PCB.
Play
Sure, you could spend all day, every day basking in the sun on Panama City Beach's soft, white sands, but there are so many other things to do here that I'm betting you'll want to give at least a few of them a try.
Whether you have preschoolers, teens, or something in between, your entire family will have fun on an Airboat Adventures tour. You'll speed through the creeks and marshes of West Bay in an Everglades-style boat, searching for alligators, American Bald Eagles, dolphins, and more, and do a few controlled spinouts on the open water. Kids even get to take turns riding up top with the captain. This tour combines adventure and excitement with actual learning about the marsh ecosystem and the animals it supports, so it's a huge win in my book.
Finding treasure on Shell Island
For the best shells and snorkeling in the area, head to Shell Island in nearby St. Andrews State Park. You can take a shuttle to get there, rent a pontoon boat, or charter a boat and guide to take you there and show you around. You'll find the best shells at the beach known as "Kiddie Pool." Dig down a few inches into the sand banks on the edge of the water, and you'll turn up gorgeous shells in seconds. On the jetty side of the island, the water is shallow, clear, and perfect for snorkeling.
Shell Island isn't all St. Andrews State Park has to offer. It also has great hiking trails and a fun nature center to explore.
I scream, you scream…
A sunset dolphin tour is a must at Panama City Beach, and there are a range of options for every budget. Vacationers rave about the affordable dolphin cruises aboard the Sea Screamer, or you might opt for the pirate ship known as the Sea Dragon, which features sword fights, a pirate dance party, face painting, and more.
We saw dozens of dolphins on our sunset cruise
We splurged on a private sunset dolphin cruise, and it was worth every penny. Our guide took us right up to the dolphins as they swam around our boat and even let us get out to swim with them. We also made a stop at Shell Island for snorkeling, shelling, and interacting with a raccoon family that lived among some nearby rocks. It was unforgettable.
Rainy day? No worries. There are plenty of indoor activities at Panama City Beach. Wonderworks is an awesome way to spend a few hours on a hot or rainy day. Think of it as an educational amusement park, with dozens of rides and hands-on, interactive exhibits your whole family can enjoy together. We loved visiting this place and easily could have spent an entire day here. Across the street, you'll find Ripley's Believe It or Not! — always a good option with kids. This location includes an Odditorium, mirror maze, 7D movie theater, and LaseRace attractions, all in one place.
Gulf World: Now with flying dolphins!
Gulf World is another fun way to spend a day at Panama City Beach, with a range of exhibits featuring animals like dolphins, penguins, seals, alligators, and flamingos, live shows every half-hour, and lots of interactive programs allowing you to swim with dolphins and stingrays, be a trainer for a day, and more.
In our happy place
There's much more, of course. Stuffing your face on fried shrimp baskets at giant seafood houses and fishing off the pier. Riding bicycles and renting wave runners. Chasing sand crabs on the beach at night and plummeting down a water slide at Shipwreck Island. But this list should give you a great head start on planning what could easily be the best beach vacation your family ever takes.
This article was originally published on