Parenting An Average Student
by Sharon Greenthal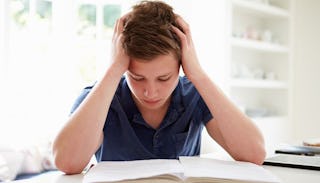 Shutterstock
One of the most challenging aspects of raising my son was accepting the fact that he was an unmotivated student. Though his father and I tried not to let his grades define how we saw him, especially during high school, they did have an impact on how we viewed ourselves as parents. We had moments of self-doubt and, at times, questioned the way we had raised him. What had we we done wrong? What did we miss or fail to do to motivate him to succeed?
Nothing really, it turns out.
RELATED: How To Help Your Teen Learn Coping Skills For Stress And Anxiety
It was never up to us to motivate him in the first place. He had to find the motivation within himself.
In the hyper-competitive world of AP classes, honor rolls, valedictorians, students-of-the-month, perfect SAT scores, 4.0 and above GPAs, scholar athletes and more, having a child with average grades is considered a serious problem by many parents and can even be viewed by some as embarrassing and shameful. A "C" student might as well be a high school dropout as far as many top-tier colleges and universities are concerned. Some high school counselors, who can be overloaded by the sheer number of students they manage, and private admissions consultants, concerned about their reputations and admission rates, are quick to dismiss average students as junior-college bound.
Just because a student has average grades in high school doesn't mean he or she won't succeed in college.
My son was an average high school student, graduating with a GPA that was just shy of 3.0. There were a number of reasons for his less-than-stellar performance in high school, including a mild learning disability (ADHD) and a severe lack of motivation. His father and I did everything we could think of to ignite an interest in academics in his intelligent but disinterested mind. Among other things, we hired tutors, including the one PhD English teacher at his high school who had been so inspirational to our older daughter. As I surreptitiously listened each week, I was struck by how utterly bored my son was, despite the fascinating (if somewhat exasperated) way the teacher explained the text. For me, a voracious reader with an English degree, my son's disdain for literature was both sad and a little terrifying. How would he ever make it in college without the skills to interpret complex writing?
And yet, when it came to sports, my son was a font of knowledge. His recall of baseball and football statistics was encyclopedic. He could dissect and evaluate every play in a football game the way mathematicians solve complex calculus equations. What good would all of this information do him, his father and I wondered. On the other hand, we felt the life lessons he learned playing football in high school – commitment, discipline, respect and teamwork – would be of great value to him, so we supported our offensive lineman and his team. We hoped that his zeal for learning about sports would someday translate to his academic pursuits as well.
The belief that attending a top 50 university is the only path to success is not only untrue, but impossible for the 95% of high school students who don't have the grades and/or the financial ability to attend one of these elite institutions. There are thousands of excellent schools that will admit average students and offer them the growth experiences and education that are the reasons to attend a college or university in the first place. My son was fortunate to be accepted to one of those universities.
Parents of average students might want to consider doing things differently than we did and fight their understandable instinct to constantly push their students to perform better in school. Many teenagers don't reach a level of maturity to find the impetus to work hard until after high school. The fighting and arguing about getting him to work harder, study more and do better was futile and frustrating, and caused unnecessary stress for both my son and for my husband and me.
In my son's case, it wasn't until he went to college and found something that captured his attention – in his case, American History – that he was able to earn the grades we always knew he could.
My son graduated from college – in four years – in the spring of 2014. The key to his success was finding support and counseling throughout his college experience, along with simply growing up. His senior thesis was on the history of the Mexican baseball league and its impact on the sport in the United States. He received a B plus on his paper. He now has two jobs, one in management for a college football team and the other in public affairs for a large energy company. He succeeded despite being an average high school student – and without his parents breathing down his neck. He did it on his own, which for me is the most gratifying thing of all.
It's unlikely a potential employer will ever ask him about his high school GPA. Why would they? There's so much more to him than that.
(Note: This post was written with my son's blessing and encouragement.)
Related post: About a Boy
This article was originally published on