Polaroid Is Bringing Back This Popular Camera, '90s Kids Everywhere Rejoice
by Thea Glassman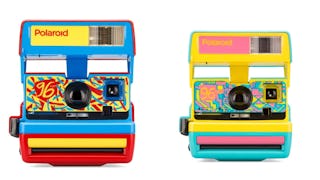 Image via Polaroid
Polaroid cameras are *finally* making a comeback.
The 90's are having another moment and — as a direct result — the world is probably (definitely) becoming a better place. The Spice Girls are reuniting, Full House has been given multiple reboots, and there's about to be a whole new version of Sabrina the Teenage Witch on Netflix.
RELATED: These Digital Cameras Will Make Your Kid A Photographer In A Flash
To add vintage magic upon vintage magic, Polaroid is rereleasing one of its cameras — and it's literally nostalgia wrapped in plastic.
The 96 cam is a special edition re-release of the original 600 Polaroid camera, and it's completely decked out with colorful '90s style skins. If you're into this, move fast! There are only 2,000 cameras being released worldwide.
This first option is the Jazz Red Polaroid ($189.00), which is so delightfully bright and color clashing that you'll basically feel like you're back in your living room, eating sour straws, and watching Saved By The Bell all over again.
Then, we've got the Fresh Blue Polaroid ($189.00), which is winning it all with classic geometric patterns. It includes a close-up lens, a lighten/darken slider, and a flash. Also, it is very, very cute. Like, so cute you will maybe risk looking like a complete hipster and snatch it up immediately.
So, why the sudden resurgence of these 90's gems? According to a press release from Polaroid, the cameras will help disconnect you from the internet and bring you back to the good old-fashioned basics. You know, back when you hung a flattering picture of yourself on the wall instead of furiously putting it through filters in order to casually stick it on Instagram.
"In today's fast-paced, digital world a tangible object outside of a smartphone or computer screen is a valued artifact," the release noted. "An analog instant camera can't connect to the internet or post to social media. But the 5,000 chemical reactions that take place every time the shutter clicks, create an original photo that is impossible to reproduce. It's an object you can hold in your hand, put on your fridge or share with a friend."
The 96 Cam is available now at polaroidoriginals.com and select retailers. The edition is limited to two thousand items worldwide, so you'd better buy one faster than one of these photographs can dry!
This article was originally published on