Is It Pregnancy or Menopause?
by Shari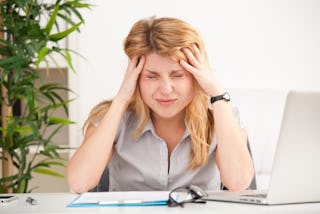 I'm 47 years old and (possibly) pregnant. Pregnancy or menopause? That is the question.
All I knew yesterday was that I haven't had a period for three months. No, I hadn't taken a test because I've been really busy and only realized how long it's been when I received an offer to do a giveaway of a fabulous new brand of tampons. While musing over the potential humor value of a 'pon contest on my blog, I suddenly started doing a bit of mental math. Uh oh. I've been really busy.
So I sat with this information all day. Sat with all the possibilities. Is this a beginning or an ending? Am I going to bear another child or am I getting my child-bearing walking papers? Is my uterus waxing or waning?
I went through the full gamut of emotions. My 5 year old son and 6 year old daughter were cavorting to some insipid Disney tune and I found myself getting misty-eyed. "Look at them, the little darlings. I could do one more, couldn't I? These two are growing up, they won't be cavorting to insipid Disney tunes much longer. Oh, to feel a sweet babe a-tuggin' at my nipple once more! "
Score one point for possible pregnancy.
An hour later, my daughter was throwing a colossal tantrum, shrieking, "I'M GONNA COUNT TO THREE AND THEN I WON'T LOVE YOU ANYMORE! ONE! TWO! THREE! OKAY! NOW YOU DID IT! I DON'T LOVE YOU ANYMORE! YOU'RE A TERRIBLE MOMMY! I'M GONNA CALL A BAT TO FLY OVER AND BITE YOU ON THE NOSE!"
Score one point for possible menopause.
And it went back and forth like that for the whole day. Adorable moments led to thoughts of booties. Awful moments led to thoughts of my own bootie being saved from the scourge of further breeding. I couldn't even bring myself to tell my husband for fear that he might faint or yak. For the whole day, it was my little secret, treasured up in my heart to be pulled out when I wanted to delight or terrify myself.
This morning my two best friends came by for coffee. I dropped the news casually, as if I were saying, oh, by the way, I might be buying a new dress, or I may never be buying dresses ever ever again because all my money has been returned to the Big Bank in the Sky. They were stunned, to say the least. Within two minutes, we were out on the street, walking to the CVS to purchase a stick for me to pee on. They sat outside my bathroom door as I peed on said stick. And as I peed, a thought went through my head.
"Please let it be positive, God."
It wasn't. And I cannot tell you how relieved I was. It was hard enough giving birth at 40 and 42, much less pushing out a watermelon from my very very tired 47 year old body. And we are so broke, we can't even afford the kids we've got. And I already have a new baby, my blog, which requires so much time and care that I might as well be letting it suck on my boobs. But still… I did have that thought.
I'm a woman, after all. And for all of our emancipation, strength, and gurl power, we still are the only sex who has this special ability of bringing a human being into the world. And to have that potentiality taken away hurts. I have to admit, today I'm grieving a bit.
But then again, the thought of not having to try that fabulous new brand of tampons kinda rocks.
This article was originally published on