I Go Overboard With Halloween Costumes -- For A Good Reason
by Devon Kelly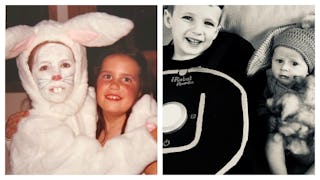 Devon Kelly
I'm the mom who had her kids' Halloween costumes done in September. Before the expletives start flying, let me explain.
I grew up with a very shy mom. Most of her sentences were just single word replies to questions. Even when I'd say, "I love you mom," she would just say, "Mmhmm, me too." Actually, I added the "me too" part so you wouldn't think I grew up in a Dickens novel.
Because here's the thing: I knew she loved me. She was just one of those painfully introverted people who showed her love through actions, not words. And one of her big declarations of love was making my Halloween costume every year.
As soon as school started, we'd go to the fabric store and flip through the costume patterns until we found the perfect one. Then, night after night as I was falling asleep, I listened to the gguh-gguh-gguh of her sewing machine as she carefully sewed each seam.
We're talking some fancy shit here. I was a bunny, a princess, even The Statue of Liberty with full crown and torch, all made of fabric. Not one shred of duct tape in sight. I loved Halloween so much that I trick-or-treated into my teens.
When I was 14, my mom got sick with breast cancer. She got better, but when I was 19, she got sick again. This time she didn't get better. She died in the early morning on October 30th.
I wish I could tell you that the next night, some magic angel trick-or-treater came to tell me, "Your mom will always be with you." But the only thing that visited me that Halloween and at least eight Halloweens after it was deep grief. Every year, the October Bummers would set in ("Bummers" is a cute word for snapping at everyone you love and then running to the bathroom and crying).
My dad would reassure me by saying, "That hole in your heart will heal when you have your own children." And to a certain degree he was right. The moments of pure anguish have become fewer and further between. I now have two kids. Two amazing reasons to push through the October Bummers.
I'm grateful to my shy mom for finding an outlet to express her love. And I'm grateful to my kids for helping me reclaim Halloween and letting me pour my love on them. Even if I occasionally have to use duct tape.
We are Scary Mommies, millions of unique women, united by motherhood. We are scary, and we are proud. But Scary Mommies are more than "just" mothers; we are partners (and ex-partners), daughters, sisters, friends… and we need a space to talk about things other than the kids. So check out our Scary Mommy It's Personal Facebook page. And if your kids are out of diapers and daycare, our Scary Mommy Tweens & Teens Facebook page is here to help parents survive the tween and teen years (aka, the scariest of them all).
This article was originally published on