10 Things To Do In Seagrove Beach With Kids
by Elaine Alguire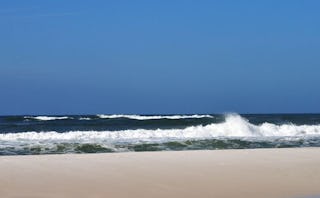 We've traveled to Seagrove Beach three times now and we always rent a home in the same community. Seaside (which is famous for being the setting for the film The Truman Show) is an idyllic beachside community that is just SO adorable, and is only a 5 minute drive. Destin, Florida is about a 30 minute drive to the west and Panama City is a 20 minute or so drive to the East. Here are ten things we love most about Seagrove Beach!
1. Angelina's Pizza. I think we all have the number programmed in our cell phones; we order from the minute we get to our rental house. It's also very family friendly for dining-in, and the food, pretty darn tasty. (Especially when you are REALLY hungry after a long drive from three states away and just want to sit down and eat a decent meal!)
2. The food campers in Seaside that serve everything from grilled cheese to daiquiris.
3. The gelato place in Seaside, next to the book store that has great kid's books and some toys and is so homey and run by THE nicest people.
4. Harbor Walk Village in Destin. You can take a walk along the boardwalk and see the catch of the day from the fishermen, take off for a dolphin cruise, ride jet skis and eat ice cream or seafood. You can also see fish right from the board walk.
5. The Publix where we shop the day we get into town. They have THE best spinach artichoke dip on the planet. Mmmm. Oh and floaties and beach stuff for the kids too, in case you forgot to pack them. Ahem.
6. Gulf World in Panama City is a "just the right size" marine life amusement park. Great little shows and lots of wildlife to see.
7. The Dollar Store in Panama City that has THE best and THE cheapest souvenirs for the kids. Think shark tooth necklaces and cheesy magnets lining an entire wall. And mugs that say FLORIDA with palm trees and surf boards. And awesome back scratchers… Ahhhh… All for just $1 each!!
8. The wonderful outlet shopping in Destin. Coach, anyone?
9. The Friday night movie on the grass in Seaside. Every Friday evening in the summer they show a movie outdoors and you can bring your blanket and snacks and watch. It's kinda like a drive-in with no cars/trucks.
10. The white sandy beaches with beautiful green and blue ocean water, where my kids can literally play for hours. And I can relax in a beach chair for some of it with my electronic device in one hand and a drink in the other.
This article was originally published on