This Is The Hardest Part Of Being A Single Mom With No Co-Parent
by Nicole Pecoraro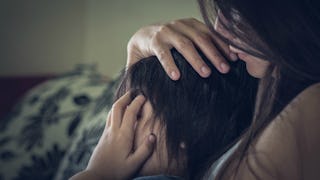 spukkato/Getty
I get so frustrated as a parent sometimes, as many do. I work hard, sleep little, and feel overwhelmed and emotionally drained much of the time.
I'm busting my ass to make ends meet to turn around and get snapped at by a tiny human who appears ungrateful, demanding, and entitled in the wake of my roller coaster day to day life.
Being a divorced parent is hard. Being a divorced parent with no co-parent is even harder.
So while I sit here and throw myself a pity party for spending my days making up for the absent parent in my kids' lives, I really need to take a step back and remember… my kids are going through some serious shit.
I might be the "single" parent in this parenting duo, but they have gone from a family with two parents, with a semi-normal home life, to a family with one parent completely removed. Living in the house they grew up in but with a new man who they don't trust yet, don't know as a dad, don't feel the same love or connection with.
While I'm struggling to navigate life with new dynamics and a new partner, they are trying to mourn a dad who is still alive but they don't get to see. The parent who used to be the "fun dad" who over-exaggerated every event, every holiday, every big moment in their lives and now forgets to call on their birthday.
I feel worn down and complain about money, lack of support, and missing days of work to stay home with sick kids because I am their sole parent. But I forget that while I'm cuddling their feverish body and stressing about being stuck home and not at work that they are remembering what it was like to cuddle their other parent. Or maybe they are stressing because enough time has passed that they might not be able to remember it as well as before.
I have to remember that even though I got to cheer them on and beam with pride at their achievements, they were likely (if even for just a moment) yearning for the person missing. The one who should also be there to congratulate their big accomplishments.
I have to remember that if my kid seems like he doesn't like any of the gifts he got for his birthday, even if it's exactly what he asked for, it's not me. Or the gifts. It's because the one true gift he wanted isn't something that can be bought at all.
He told me his one wish this year: that his dad would come back and be the dad he was years ago before his demons took over. And my only saving grace is that someone reminded him days later that if you share your wish, it won't come true.
My kid may never tell me his wishes again.
While I'm simultaneously making sure that my kids get to continue their sports, have birthday parties, the tooth fairy shows up, Santa is good to them, and everything is somewhat normal and like it used to be, they are wondering what magical being can step in and "fix" this.
When I am exhausted and overwhelmed at bedtime and fighting back tears because my kids have heard two songs, been read three books, and had multiple bathroom breaks, there are nights I bet they're also wishing their mom wasn't the one always putting them to bed.
There is a place of common ground at the root of our mutual frustrations.
My kids have it pretty rough for kids who on the outside appear happy, carefree, friendly, and smart. The mask they wear sometimes fades and the sadness pours out, but sometimes it doesn't. Most of the time, it doesn't. At least not in obvious ways.
On those days I forget that they are battling with feelings and thoughts and fears and worries that most kids don't experience at such a young age. Or ever. I have to remember that my kids, even if they seem fine, might really be struggling on the inside.
I have to keep in mind that they aren't aware of their feelings yet and aren't mature enough to express them and so they manifest in ways that look like ungratefulness, attitude, or anger towards me.
And I have to remember that even if my kids are smiling, that doesn't mean there isn't a fleeting thought about the thing they miss most. The PERSON.
I also have to consider that while I'm over here feeling sorry for myself in my position as mom and dad, they most likely want a break from me as much as I do from them sometimes, but that break is nowhere in either of our immediate futures. I just have to keep reminding myself…. my kids are going through some serious shit right now.
This article was originally published on