Sophie Turner Has The Best Response To US Soccer Star's Tea-Sipping Haters
by Leah Groth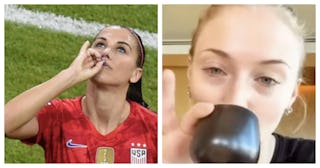 Twitter/Sophie Turner/Fox Sports
Sansa Stark is so about girl power and it's amazing
Sophie Turner pressed pause on her honeymoon (after that wedding to Joe Jonas) and took a moment to offer her support to soccer star Alex Morgan, whose controversial "tea-sipping" gesture at the 2019 FIFA Women's World Cup has stirred up all sorts of drama.
For those who aren't following the kick-ass United State's U.S. Women's national team this year, here's the background on the controversy: During a soccer game against England last week, the 30-year-old celebrated the game's winning goal with the gesture that sailed a thousand ships: she mimed sipping a cup of tea.
It seriously spawned a shit storm. Some people praised her, while others called it act of arrogance. Many also pointed out that the outrage over the incidence was an act of sexist, as male athletes often engage in similar behavior without question.
Alex herself pointed out the absurdity of it all, and also added that it was Sophie Turner, who often uses the gesture in her social media videos, who inspired her to "sip tea." She also made a valid point — that it's totally okay for men so celebrate their wins by "grabbing their sacks" — yes she actually used those words — but the world is so offended by her sipping tea.
https://www.instagram.com/p/BzipSU8IyAI/
The "Game of Thrones" star, born in England and a supporter of her home team, wasn't about to let the haters hate on Morgan — and felt inclined to respond to all the chatter via a video on her Instagram stories.
"Okay, I'm on my honeymoon. I'm not really looking at my phone much, but I feel like this deserves a mention," Sophie says in her social media video. "Unfortunately, the U.K. women's football team lost at the World Cup, and of course I'm incredibly sad and incredibly proud of that team. But I am so honored that we lost to such an incredible team, the U.S. women's football team."
She continued to praise Morgan, revealing she was flattered by the tea-sipping gesture.
"Alex Morgan, all the haters that are saying that this was disrespectful, I'm honored that you thought of me. And all those people that are hating on you are probably sitting at home, millennials drinking kombucha," she jokes. "And I'm really f*cking proud of you, Alex Morgan. Congratulations on your win. And that's the motherf*cking tea."
People on social media, naturally, are extremely here for everything the Queen in the North has to say.
Um, you are totally awesome Sophie. If Alex wants to sip a damn cup of tea to celebrate a win, then just let her. THAT is the real tea.
This article was originally published on