If My Kids Are In School, Why Am I Still At Home?
by Sharon Brandwein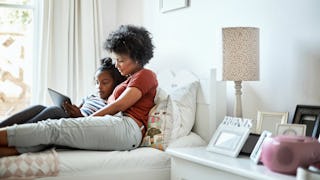 shapecharge / Getty
For as long as there are stay-at-home moms, there will be moms that question that decision.
I had to be a stay-at-home mom.
I still remember it, the feel of it, the heartbreak of it. We were living in Alaska at the time, and after work one day, I headed off to pick my girls up from daycare. As we stood by the door chatting and talking about the day, the sitter handed me my sweet baby, Grace. As our conversation went on, Gracie reached back out of my arms for the babysitter. She reached back like that was where she was comfortable, like that was where she belonged, like that was her mama. And I was just a stranger passing through. That moment forever sealed itself into my story.
On the drive home, my babies in the back seat, I cried. That was my baby. I'm her mama. I knew at that moment I had to be a stay-at-home mom. After the sting of it wore off, I started planning. If I worked x amount of overtime for x amount of hours for x number of months, we could pay off the car. I spent the rest of the evening with my mind spinning. Surprisingly, it wasn't a difficult conversation to have with Lou. There was no pushback. It was decided: when we left Alaska (we're a military family), I would officially become a stay-at-home mom.
And a stay-at-home mom I was. My babies were ages one and two, they needed me. We bought our first house, the house needed me. I started couponing to help out however I could. All said and done, we were fine. There was so much to be done. School enrollments, drop-offs, pick-ups, potty training, home decor: the list was endless.
But it seems that while I was cleaning the bathroom, the world had moved on.
What now?
Once the girls were in school full-time, I found myself wondering what I should really be doing all day long. I plan meals, run errands, bring lunch to my husband when he can't get away. So what? How did I get to the point where what I do seems so unimportant? Did my importance boil down to whether or not I had hand soap in the house? And yes, one day when my husband asked me for soap, I cried.
I briefly thought about returning to the workforce; however, I was quickly hit with the realization that the band played on and whatever I could bring to anyone's table was just irrelevant. How can that be an example to anyone?
I encourage my girls to be something, to do something, and to rely on only themselves. When they say they want to be like mommy and stay home to take care of their family, I don't feel the sense of pride that I think I'm supposed to feel and it makes me sad. I don't want them to ever wonder if they are enough. I don't want them to ever feel as though the world has moved on. I want them to do and be so that if someone ever tries to pull the rug out from under them, they will land on their feet.
My mother raised my sister and me to be women who don't have to stay (something that has proven priceless once in my life already). I want the same for my girls. I struggled to reconcile how I can be for myself and still be there for them.
Raising my kids is the most important thing I could ever do.
After some serious soul searching, I realized that what I am doing is so much more. I am there to hold my babies when they are sick or there to hold them just because. I get to spend the time with my children so many other parents long for with their own. Still, with all the time I am given, I find myself wondering where it all goes, and why so fast.
Being present is important, but so is being an example. I have shown my girls how to be kind and empathetic towards others. I have shown them how to keep a home, not just a house. I have even shown them how to make a chicken dinner on their own. Now, as they grow older, I want to show them what being proud of yourself looks like, and selfishly, a little part of me wants them to be proud of their mom.
Having something beyond motherhood is good (for everyone).
I decided to become a freelance writer and blogger. It's the perfect storm, really. I could write about the things I love and maybe help others in the process. I am able to work on my terms, and still be available for my kids and my husband when they need me. Writing, researching, and blogging have given me a newfound purpose. I am excited to work on my blog every day and I go to bed every night unable to fall asleep because my mind is spinning with new ideas. I have something to pour my creativity into, something that is mine. I found my happy medium.
And as I sit here writing this article, my daughters are sitting at the table with me, working on their own "blogs."
My cup runneth over.
This piece was originally published on Her View From Home.