Students Pay Moving Tribute To Elderly Woman Who Waves To Them Everyday
by Thea Glassman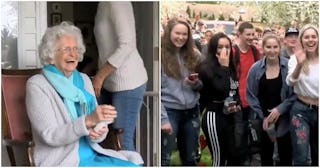 CBC
A woman who waved to school kids every day got the best send off
88-year-old Tinney Davidson has been waving to students from her home for more than a decade. Her gesture of kindness has made its mark on a whole lot of kids, who recently gave her the ultimate send-off when they heard that she was moving to an assisted living home.
Davidson has been known as the "Waving Granny" ever since 2007, when she moved into her British Columbia home with her husband. The two would wave to kids as they walked to their local school and the kids would wave back. After her husband died, Davidson continued to take up her post by the window to give cheery hellos to students passing by.
"I was just enthused by them. They're just wonderful children. They just make me feel so good," she told CBC in 2014.
Well, all of those kids loved Davidson right back. A whopping 400 (!!) students showed up on her lawn this past Thursday to say goodbye after they learned she was moving. They gathered together with flowers and handmade signs and lawn posters that had messages written like: "We <3 you Mrs. Davidson" and "Thanks 4 Being Awesome."
When they got to her house, the kids counted down so that they could all blow her a kiss at the same time. If this is making you very, very emotional, Davidson's sweet, overjoyed reaction will completely crumble you. She clapped her hands happily and said: "Oh lovely thank you." Later, she told CBC that she had no idea she was getting a massive send-off.
"I was shocked again that's there's so many kids that want to say goodbye to me," Davidson said.
People across Twitter were feeling many, many things over this story.
https://twitter.com/jetpack/status/1122198849685114881
This isn't the first time that Davidson got a sweet tribute. Back in 2014, the local school held an assembly in her honor. And in 2016, seventy students arrived at her doorstep to deliver Valentine's Day cards, cookies, and hugs.
"I was shocked. They kept coming and coming and I just could not believe what I was seeing," she said at the time. "Well, I think I'm just the luckiest lady alive, really and truly. I have so much joy from them."
CHEK News was on the ground during this impossibly delightful moment and captured all of the sweetness on camera. "You're making me cry!" Davidson said. "I had no idea, it's just shock, I'm in shock and I am just so overwhelmed once again."
That makes two of us.
And to think, this whole wonderful tradition kicked off with just one simple decision on Davidson's part.
"I just liked the look of the children and they all looked in and I thought, 'If they're looking in, I'll wave to them,' and that's how it started," she said in 2014.
Sending lots and lots of love to Davidson as she embarks on her move. I have a good feeling she's going to get a whole lot of visitors.
This article was originally published on