Kids With Disabilities Are Left Out Of Graduation Programs, And It Needs To Change
by Ellen Stumbo for The Mighty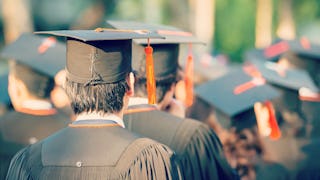 ake1150sb / Getty
Last week, Stoughton High School, in Stoughton, Wisconsin, excluded the names of students with disabilities from their graduation ceremony program. A district representative told News 3 of Madisonthat it was a district policy based on concern that including the names of these students would disqualify them from a program that students with disabilities between the ages of 18 and 21 are eligible for.
Special education students with individualized education plans (IEP) who may not be able to obtain a regular high school diploma have the option of staying in school until age 21 or 22, but they become seniors along with their peers and graduate with their class. The years following are "transition years," not extra high school years. During these years, students work on life-skills and job training while keeping up their coursework to obtain their certificates.
After this incident, the school district contacted the Department of Public Instruction and learned that printing the names of students with disabilitiesdoes not impact their eligibility for 18 to 21 program.
The school district changed their policy and reprinted the graduation ceremony program.
While the school and the district have made positive changes, the fact that this happened in the first place is disappointing. For years, this particular school district has been omitting the names of students with disabilities from their graduation ceremony programs. For years, nobody made a simple phone call to ask if adding the names of disabled students would affect their eligibility. And while new programs were printed, they were not available on graduation day.
For years, teachers and educators did not see the omission of students with disabilities as a significant oversight and did not take immediate action to ensure everyone is included. It took yearsfor someone to notice that the names of students with disabilities were missing.
What happened at Stoughton High is not an isolated incident. Students with disabilities face this type of exclusion regularly during their school years.
Omitting the names of students with disabilities from the graduation ceremony program is a reflection of a much bigger problem we face as a society. This could have been any school. These types of "mistakes" and "oversights" happen too often.
This year, for example, my daughter with Down syndromeand all other students receiving special education were not included in their yearbook, a student with Down syndrome was not allowed to walk with her graduating class, children with physical disabilities were seated on the sides of their graduating ceremonies rather than sitting with their class, students with disabilities were unable to participate in field trips because the outings were to inaccessible places without accommodations.
This is not only a school problem, it is a society and culture problem.
At an individual level, negative attitudes towards disability are so ingrained in our society we don't even notice them. This is how a school district can dismiss not including the names of the kids with disabilities along with their graduating class. It is why, at first glance, it is only "too bad this happened," and takes years for someone to make a simple phone call. A reason I personally believe makes no sense.
These negative disability attitudes are so prevalent that it would be hard to find a school where the entire staff is trained on issues related to disability, and proactively works to create a culture where everyone belongs.
What we need are teachers and educators, as well as a society and culture at large, that recognizes our kids have the same value and rights as any other neurotypical or able-bodied child.
I am afraid that until our kids are considered as valuable and important as typical children, these "oversights" will keep happening. Not purposefully, but inadvertently.
And it's time to change things.
As parents, we are going to fight and keep on fighting until society recognizes the value in our children.
We are going to keep on fighting so that no kid with a disability is ever "forgotten" again.
We are going to do the best we can to change the world for our kids.
If your child will be graduating from high school in the next few years, here are some questions you may want to ask before graduation. All of these are things that should happen, but it is best to ask:
– Will my child be recognized as a senior along with the rest of the class?
– Will my child be walking with the graduating class?
– Will my child's picture be included in the yearbook along with graduating class?
– Will my child's name be printed in the graduation ceremony program?
Originally published on The Mighty.
This article was originally published on