Stunning Photos Bring Deployed Husband And Wife 'Together' For Maternity Shoot
by Jerriann Sullivan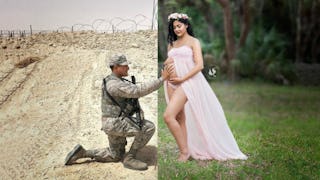 Image via Jennifer McMahon at Jennifer Ariel Photography.
'It broke my heart when she told me her story.'
Thanks to a creative photographer, a military family has a beautiful maternity photo even though the husband is currently deployed. Being away from home for just a few days while your partner is pregnant is hard, but for military families, the situation is often much more difficult with husbands wives stationed across the world.
Veronica and Brandon Phillips are one such family. Brandon is overseas in the Air Force while Veronica carries the couple's first child at home in Miami. Thankfully, Jennifer McMahon, who owns Jennifer Ariel Photography, worked with the couple to create an amazing image that brings the couple together perfectly. "It broke my heart when she told me her story. I couldn't imagine," McMahon told Scary Mommy. "And to think it's a regular occurrence. This is what it means to serve our country."
The couple was referred to McMahon by a previous client. "Veronica booked her session with me and explained her husband would not be present," McMahon said. "When she arrived, she had asked if it would be possible to incorporate him in the photo." The photographer said yes then got creative. She explained: "I had seen many photos where people were photoshopped in, and I have photoshopped siblings together before to look like one seamless photo. So this was a little new to me."
McMahon stuck with it, though, and after several hours of editing created a photo that perfectly captures the couple's relationship. "I posted the one I thought told the best story and would evoke emotion to all that saw it," McMahon shared. "I know its not even the best photo, but its the story that it tells that means so much to people."
The response to the photos has been fantastic. Comments have poured in online from military families that have endured similar situations where one parent is deployed during pregnancy. "This photo has already reached over a million people, and we are all in shock," McMahon told Scary Mommy. "I am so honored that my photo could do that." The best part, of course, is that McMahon was able to create something so special for the Phillips family, who seem to love the images. "Brandon had said he was 'happy my wife gives military women a voice through pictures," McMahon said.
This article was originally published on