Taking a Fitbit to Disneyland
by Laurie Ulster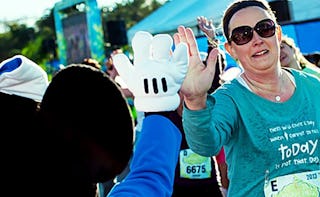 I've always thought of the Disney parks as places for a little obesity-inducing indulgence, but it turns out I've got it all wrong. Buzzfeed reporter Leonora Epstein took a Fitbit there with her for the day, and found out that this mecca of childhood fantasy accompanied by relentless music is actually a hell of a workout.
RELATED: Get Their Butts Off The Couch With The Best Kids Fitbit Watches And Fitness Trackers
By the end of the day, she'd walked 11 and a half miles, taken almost 29,000 steps, and covered 18 flights of stairs. She'd also burned almost 2500 calories, which made her feel better about the fried risotto balls and beer she had for dinner.
She's not the first person to discover just how healthy the World of Disney can be. The parks have a history of athlete-attracting marathons and events, like the Tinker Bell Half Marathon, the Pixie Challenge, the Disney Princess Half Marathon Weekend, and the Never Land 5K, and now there's the Star Wars Half Marathon Weekend too. They all include being cheered on by costumed characters as you run. I'm not a runner, but I think my fear of mascot-types could actually get me moving if I stumbled across one of these by accident, because I'd be running away as quickly as I could. Not so for the true running population, who see it as a great way to spice up their run and give their family a vacation at the same time. Almost 50,000 people signed up for various runs taking place over a three-day period at Disney World, only slightly fewer than the number who registered for last year's New York Marathon.
But even without the special events, it turns out that a regular day at one of these theme parks can keep you in shape if you keep moving and stay out of long lines. There are forums dedicated to the Fitbit/Disney combo, where people say they walk an average of 6-10 miles per day.
The last time I was at Disney World—in the pre-Fitbit years—we were on a trip with my extended family, and my youngest was only about a year old. Since she still needed naps twice a day, and it was my family we were on the trip with, my good and generous husband spent a massive chunk of his time sitting in the room while she slept, sometimes napping as well. Does Fitbit track naps? He still got healthy, because naps are good for you. Research says so.
I was out and about in the park, but it wasn't quite the exercise experience I'm reading about now. I think we spent more time waiting for things than doing them, although my brother did get in some upper arm work by pushing his kids (and sometimes mine) around in one of those giant traffic-obstructing double strollers you can rent there. If you can burn calories by giving people the evil eye, a lot of people around us got a little bit fitter that day.
I remember the park itself as an exercise in frustration more than actual exercise. But maybe that's because we were at Disney World in Florida instead of Disneyland in California. Disneyland is clearly a mecca for celebrities, who make it look a lot more exciting.
Ryan Gosling skipped the 2014 Oscars to spend the day there. Jonas Brother Kevin spent his first anniversary at Cinderella's Castle, where Neil Patrick Harris and his husband have also spent the night. And yes, John Stamos has a lifetime pass. There must be something there that's different, because I can't imagine wanting a lifetime pass to a place where our whole day was spent trudging through sluggish crowds and standing in line after line for rides and food.
Epstein doesn't mention in her post whether or not she had kids with her. She did, however, have a Fastpass, and managed to hit five rides before lunch, whereas I think we went on two rides the whole day.
She concludes that the "happiest place on earth" can be healthy too. Maybe I should go with a Fitbit next time instead of 19 family members. I'd be lonely, but trim.
This article was originally published on