My Kid Is Tall For Their Age And I'm Sick Of The Assumptions
by Samm Burnham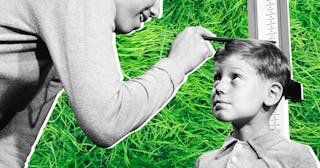 Scary Mommy, Daniel Watson/Unsplash and Steven Gottlieb/Getty
It's weird having a six-year-old who looks like a nine-year-old. It can be weird parenting him, and I know it's weird being him, because it was me too. Thankfully for him, it is a little cooler to be the big dude than the big gal, but still, it can be challenging. Now, I know being the littlest one in the class/group/whatever likely has its challenges also, but Big Samm can't speak to those, so I will speak to what I know.
Being the really tall kid can be hard.
For starters, the expectations set on him far exceed what he is capable of. I can feel the judgment at the park when he throws a fit about sharing or not getting his turn. I know people expect him to crush the ball into the outfield, and are shocked when they have to bring the tee out after too many missed pitches because he looks more like an assistant coach than a player.
In large school groups, I often think people expect him to be setting the example, when really he is typically one of the youngest ones in his class. I actually think he was mistaken for a mother's helper at the playground once when another mom at the park pointed to him rather than me when my one-year-old was about to fall off the slide.
Often times, age appropriate activities are unavailable or look ridiculous, when done by someone his size. Last year he was well within the age range to be jumping in the toddler section at SkyZone and I looked like Mother of Assholes as he catapulted other toddlers to their almost-death on the trampolines. And last week we went to a carnival with other kids his age and poor Bigshow was too tall to go on a majority of the age-appropriate rides.
"I don't think so, pal. Choo-choo train ain't for you, go ride the Zipper." Ugh. And I get it. I used to have lemonade stands when I was like ten and when I would stand my six-foot ass up and my customer got a look at my women's size 11 Tevas I knew they were thinking I needed to get a real job.
Clothing and accessories are also interesting. His preschool graduation cap sat on the tippity top of his head, the tee-ball helmet didn't fit, and we have cut the feet off too many footie pajamas. And he sized out of all even remotely considerable velcro shoe options at four years old. I was told at a preschool conference, "You should really get him some tie-less shoes that he can do himself." Yeah, thanks lady, the only velcro options in his size are orthopedic shoes so we are gonna take a hard pass on that one. And no, the cute slip-ons don't work either because the feet are as wide as they are long. So bend down and tie his Yeezys and STFU.
Lucky for him he has a mom who is well-versed in big. I see you, baby — in the back of all those school pictures and at the bottom of that pyramid. Shopping online for hats and shoes and batting cleanup because even though you can't connect for shit, your coach assumes you are a slugger. Crouching down in photos with your friends, dragging your feet on the swings, and starring as the Tree in your school play. And while sometimes it feels like the expectations are high, I know you can reach them.
And if you can't, I'll help.
We are Scary Mommies, millions of unique women, united by motherhood. We are scary, and we are proud. But Scary Mommies are more than "just" mothers; we are partners (and ex-partners,) daughters, sisters, friends… and we need a space to talk about things other than the kids. So check out our Scary Mommy It's Personal Facebook page. And if your kids are out of diapers and daycare, our Scary Mommy Tweens & Teens Facebook pageis here to help parents survive the tween and teen years (aka, the scariest of them all.)
This article was originally published on