Christmas Palm Trees Are Here To Make Your Holidays Sunnier
by Sarah Bregel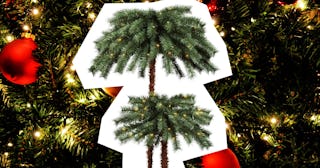 Target and Dana Tentis/Pexels
If you love Christmas but not the cold, Target has Christmas palm trees to help you stay merry and warm
Christmas is great, but cold weather? The jury's still out on that one. Sure, the first snow is nice and all, when everything is glistening and you're inside all snug and warm with a gallon of hot cocoa. That is, until the snow turns to gross brown slush and you remember that Christmas is really just the very start of the longest season of the year. Is it actually the longest? Who knows, but it sure feels that way.
Wouldn't a little warmth this time of year be nice? The ocean. The salt. The sand. The palm trees. Well, lucky for you, Target has the fix for people who love Christmas but aren't exactly winter people. Mmmmk, maybe it's not the actual fix (that would be beach-living) but it's pretty close. Because if you love Christmas but love the sunshine even more, you can now purchase your very own Christmas palm tree to remind you that warmer days are on the horizon and that you can still be festive even if you didn't feel like hacking down a giant Frasier fir filled with squirrel poop this year.
The trees are really pretty cute, too, and there are six different ones to choose from. First up is the Six-Foot Pre-lit Artificial Christmas Palm Tree.
If six feet is a bit too tall, don't worry. It also comes in four and five-foot versions to fit in just about any space. Of course, if you'd rather go big or go home (actually, if you'd rather do both and go home to this tree) there's a double version, too.
That's right! Two trees in one: The Double Pre-Lit Christmas Palm Tree.
Here's another similar version that's just different enough for various tastes.
If you're looking for something really compact, grab this miniature desk version. It's so cute and a steal at only $15. You could really buy a few and fill your home, your office, and your home office with lots of beachy Christmas vibes.
I mean, can you ever have enough of those? We think not.
Prices range on the larger trees from $69.99 to $120. Honestly, it's a pretty good deal considering it will last year after ice-cold year. Thanks, Target, for making sure those of us who can't handle the cold have something to keep our thoughts extra toasty this winter.
This article was originally published on