Target's New Sensory-Friendly Clothing Line Is AWESOME
by Meredith Bland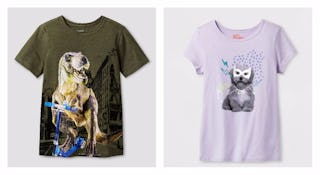 Target aims to "Design For All"
If you have a sensory-sensitive child, you know what hell shopping for clothes can be: "No. It has a tag." "What if I cut the tag out?" "No, it has a seam." "It has a seam because that's how clothes are made." Usually, you end up leaving the store with a pair of slippers and an eight-year-old going to school in 2T clothing. But Target — lovely, lovely Target — is here to help with the addition of some sensory-sensitive clothing to their children's departments.
Available only at Target.com, the retailer has added 17 pieces to their Cat & Jack collection. As of this writing, there are four shirts and four pairs of leggings for toddler girls, four shirts and one pair of leggings for girls, and four shirts for boys. They will be adding to these, however; in their announcement, titled, "Design For All," Target says that in the fall, "we'll expand Cat & Jack even further to include adaptive pieces to help address the needs of children living with disabilities."
And the church choir sang a Hallelujah in Target's name.
Target's sensory sensitive clothes address the main problems kids with these issues face when buying clothes: tags, seams, and bumpy graphics: "…the pieces include heat-transferred labels in place of tags, flat seams, and one-dimensional graphic tees, all designed to minimize discomfort when in contact with the skin."
The idea came together when one of Target's designers, Stacey Monsen, who has a daughter with autism, started thinking about how they could make clothes more inclusive for kids with special needs.
She got a group of designers together on a volunteer basis to work on the project, and, after talking with parents of children with special needs and some of the organizations that serve them, put together a proposal for the Cat & Jack line.
The Product Design and Development Team loved it. Julie Guggemos, Target's senior vice president of Product Design & Development, says, "When the group showed us their ideas, it was exciting that they recognized this need in an underserved market and did the research to understand what our guests wanted."
Though they are starting with sensory-sensitive clothes, they plan to expand to provide options for different kinds of disabilities.
Said Guggemos, "…we'll add adaptive pieces to help address the needs of children living with disabilities. This could include styles with zip-off sleeves and side openings that make dressing easier, and pieces that open in the back for those lying down or sitting."
Thank you, Target, for remembering that children with special needs require clothes, too. And thank you for the sensory-sensitive clothes that will make back-to-school shopping slightly more enjoyable for many parents out there.
(Psst…can you do seamless socks next? Thanks.)
This article was originally published on