Why Our Teens Have Flip Phones
by Kristen Downs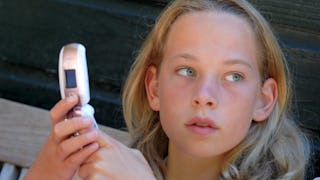 Ingram Publishing/Getty
"We are the only kids that don't have smartphones at school!" insisted my four children when we moved to Oregon two years ago. Even my 1st grade son had children in his class with the latest and greatest smartphones at that time. I recall a similar conversation from my own childhood revolving around getting a corded telephone for my bedroom. New technology, even greater challenges: flipping awesome!
Having moved halfway across the country at the start of my daughter's 8th grade year in middle school, we were keenly aware of her need to build social relationships ASAP. When she named every known child her age with a smart phone, we quickly realized that she was quite possibly the only 8th grade student in Oregon and Colorado without one. Having experienced traumatic family moves during my formative teen years, my daughter knew I was an easy sell, and my three younger sons began their campaign as well.
Fortunately as parents, we had Bill Gates on our side. How can children argue with a technology founder/billionaire who put off allowing his children smartphones until the age of 14? Needless to say, we caved one week prior to the 2016 school year, allowing our 13-year-old daughter to purchase her own smartphone, for the sole purpose of social connections.
Good news, we have emerged older, wiser, tech savvy parents… and it's flipping awesome! The solution has been apparent for 20+ years. The nineties called and this mom answered. With technology needs to exclude gaming, I fondly remembered my decades old flip phone. With all the bells and whistles needed to stay connected in middle school, the Tracfone has been a godsend to this "retro" mom and the perfect texting solution for my sons.
Looking back, allowing our daughter access to a smart phone in eighth grade was an uphill battle. We quickly learned teenage girls counted the number of "likes" they acquired on Instagram and the number of Snapchat streaks they had, feeling rejected when friends didn't comment or posted group pictures without them. This crack cocaine addiction was a full-time job, leading to teenage insecurity, viewing scantily clad selfies, and mounting pressure to keep up before school.
As a generation who didn't have "real-time" 24/7 access at their age, we were unprepared to parent the pitfalls of social media. Additionally, we encountered cyber bullying among peers, who rapidly texted their unfiltered feelings as fast as teenagers slam the door, misunderstandings easily avoided by talking face to face. We now find teenage boys equally addicted as gaming consumes them and their peers with fictional goals, immediate feedback, increasing stakes, and self-imposed challenges impossible to finish in five minutes before dinner.
Who can blame them for wanting to control their virtual destiny? What does all this instant gratification and access mean for long-term relationships, dating or otherwise?
Two years later, my daughter upgraded to an iPhone 8 and my eighth grade son upgraded his Tracfone to a Samsung, his first smart phone a few months before he turns 14. Ironically they are generations ahead of their parents' outdated smart phone technologies. Our family has reassessed its smartphone strategy along the lines of Bill Gates, allowing our children to earn trust along the way and have a say in our family's rules.
In the age of unfiltered Internet access, sexting, cyber bullying and peer pressure, healthy boundaries, respect and conversations about safety are key. It's important to embrace technology; it has value in moderation. As a family, we choose collaboration in gaming and definitely no violent first person shooter games. We limit screen time to one hour or two daily on weekends and never during homework or while hiding in the bathroom.
Studies show a direct relationship between screen time and lack of sleep, so my sophomore daughter's smart phone is plugged in our kitchen by 9pm, my eighth grader's by 8pm. All technology, including parents', is only used on the main level of our house where it can be observed.
My 11-year-old earned a Tracfone as a sixth grader, demonstrating responsibility and good grades this fall. I've observed other parents following suit and a new "Wait Until 8th Pledge" empowering parents. Showing him how awesomely cool it was to hit the number five (one, two, three times) to choose a letter to create a text, my son's eyes widened. "Cool mom, and it even takes pictures and has an alarm I can set for reminders!" the technology whiz kid exclaimed.
Not only does the Tracfone open his social calendar, it grants him a certain amount of "safety" — the reason behind most cellphone purchases for children. The best part is that he appreciates any access to technology and another smartphone purchase can be delayed until eighth grade.
Walking to school with flip phone in hand, I hoped for the best, saying he could easily blame his "old school" parents for his new retro phone. My son smiled, "Mom, they already know all about you because I'm the only kid who can't game all the time." I smiled, virtually patting myself on the back for parenting boundaries. Needless to say, by the end of the first day at school, my son had an address book full of contacts, took a picture of the dog, and set his alarm to arrive at piano lessons on time.
It's flipping awesome!
This article was originally published on