Introducing The Best & Only Sandals My Toddler Will Wear This Summer
by Karen Tietjen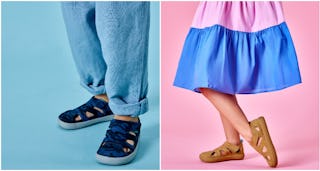 Ten Little
Summer weather calls for sandals that let your toes feel the breeze. But if you, like me, are the parent of a wobbly and very mobile toddler, you have to be careful about choosing footwear for your kiddo.
For instance, slipping them into teeny-tiny flip flops — as cute as they are — will most likely end in a face plant, or best case, them running around on the driveway in their bare feet. There's always sneakers, of course, but the time it takes to sit them down to put on socks and shoes can feel like an eternity. Plus, if there's any chance of hopping through the sprinkler or into the kiddie pool, you'll end up with a soggy mess.
Luckily, I recently discovered the ideal cross between comfort, safety, and functionality, and that's why this summer, the Ten Little Everyday Sandals are the only shoes my 18-month-old will be wearing.
Here's why: The close-toe caged style stays securely on his feet while allowing airflow, and velcro straps make them quick and easy to put on and take off, since time is of the essence for a toddler who's ready to take on the world. They have thick natural rubber soles that protect his feet from the elements (rocks, gravel, hot cement, you name it), but they're super lightweight and flexible so they don't slow him down. They're also water-resistant so he can run through the sprinkler without skipping a beat. And on top of all this, it's easy to find the perfect size with Ten Little's foolproof shoe sizing guide that ensures a comfortable and healthy fit.
And if you want your kiddo to really do summer in style, you'll want to snag Ten Little's Summer Bundle. It comes with a pair of Everyday Sandals, your choice of UPF 50+ Cotton Bucket Hat or AquaDry Bucket Hat (the latter is also water-repellant so it's suitable for wearing when beach, lake, or poolside), and kid-friendly Rashambo x Ten Little Sunglasses that are virtually indestructible — you pick the color and size for each item.
The Ten Little Everyday Sandals are unisex, made with non-toxic, vegan materials, and come in four cute colors (Sandy Brown, Navy Camo, Steel Gray, and Sparkle Pink). Now, your little adventurer can keep on exploring and you can worry a little bit less.
This article was originally published on