Thanksgiving Is My Time To Shine — Here's My Timeline For Hosting
by Nikkya Hargrove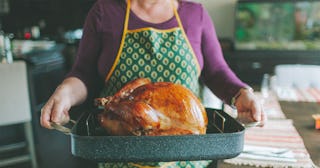 Crystal Sing/EyeEm/Getty
I spend 11 months out of the year looking forward to this very month, November, just so I can sit around the table with my family, laughing and eating copious amounts of turkey. I refuse to let my wife help in the kitchen because, well, Thanksgiving is my holiday to throw down (or mess up the mac and cheese) for. It will all be on my shoulders if the meal is good and the "good" pie is on the table. What I have going for me is my timeline: it helps me get shit where it needs to be, when it needs to be there. When it comes to hosting such an important feast, timing is everything — from when the turkey is purchased to when the turkey actually makes it to the table.
It's never too early to buy that turkey, given you have room in your space (or a spare fridge) to hold that baby. That's where I start my own planning, around the turkey. So, get that freezer cleaned out and make some room.
From there, it's time to start thinking about who will be sitting around the table and consider what they'll eat. For me, I know I will have three picky eaters who, depending on the way the wind blows that day, may or may not eat the turkey. So, I surely don't plan my meal around them! That said, now is the perfect time to consider what your menu will be. Consider cooking times and methods for each planned dish; will there be any conflicts over oven temperature or stovetop space? There are a lot of side dishes you can make ahead of time; more on that in a bit.
At least 10 days before Thanksgiving, you can:
Buy your turkey. Or try something new and place an order for a fully cooked and seasoned turkey (or entire meal) from Whole Foods or Boston Market. It's important to get these orders in early if you go the WF or BM route, because they may run out sooner rather than later. Once you know who will be around your dinner table, you'll know how much food to buy or order.
Take inventory of what kind of serving dishes you have in your cabinets; do they serve the purpose you need? You can also check to make sure you have enough linens. Maybe even pull out the ones your MIL gave you all those years ago, dust them off and use them. It'll surely make her happy too!
Ask for help! It might be Thanksgiving, but you know how to tell people what to do (and you do it well) so don't let Thanksgiving stop you – delegate, delegate, delegate. Know your strong cooking areas (and your weak ones) and assign people to things they are good at … the last thing you want to do on Thanksgiving is eat somebody's busted mac and cheese, you hear me? So call on your people (with plenty of advance notice) to cook what they're best at and take some of that responsibility off of your plate. And finally, think about…
Look at the menu you've created and take inventory of your fridge. What do you have and not have? What kind of seasonings you'll need – do you know? Make a list of all of the ingredients you'll need and start shopping for those at least 10 days before Thanksgiving. Doing so (I hope) will ensure you have all that you need for the almost-perfect feast, and ensure you don't have to brave the shitshow that is the grocery store right before a major holiday.
Time waits for no one, so approximately one week before Thanksgiving, you should:
Finalize your shopping list. You could break it up into two, the first being any items that won't spoil within a week, and the second being a few fresh ingredients you can grab just a couple of days beforehand.
Inspect your fridge and throw out anything that 1) has expired and 2) you've not used in a long (long) time. If your fridge is anything like mine, I am sure you will find something to toss. You'll need room for all the prepared-in-advance dishes … and leftovers! (7 days before)
Thaw your turkey. Toss it in a large pot — a dutch oven would work perfectly, cover it, and put it into the fridge. Per the USDA, allow a day for each 4-5 pounds; so a 16-pound turkey, for example, would take about four days to thaw (and once thawed, it's safe for an additional two days, so you can start up to six days before Thanksgiving).
Five days (and counting):
Growing up, part of the excitement for me (and my belly) in the days leading up to Thanksgiving was when my grandmother would start cooking…the collards and neck bones, the mac and cheese and the string beans and the yams with brown sugar and enough butter to give me a heart attack…I can almost taste it now. Here are a few things you can prep in advance of Thanksgiving day.
Hit the store to score all of the things you listed on your Number 2 shopping list … make a mad dash through the aisles and get out before anyone pisses you off.
The day before, you can make your desserts, prep the veggies — and if you're like me, and learned to bake bread during the pandemic, make homemade bread and prep your dough the day before too.
The night before Thanksgiving, get a head start on setting the table. Here's a place you get to invite your kids to help. Go all out here and have them practice their writing skills and make name cards for the guests.
I hope you'll use some of these planning suggestions to keep your stress low and your excitement for the holiday high. You deserve to enjoy this holiday along with your friends and family. After all, that's what Thanksgiving is all about – welcoming people to your table with open arms and inviting them in for a good meal. Don't forget to pencil in a nap afterward … because you definitely deserve that, too.
This article was originally published on