The 9 Best Depictions of Single Parents on Screen
by Melissa Kirsch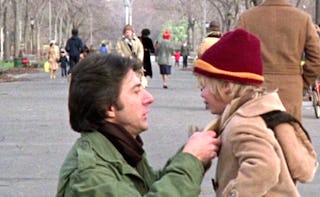 Columbia Pictures/Sony
In Interstellar, Matthew McConaughey plays Cooper, a single father so devoted to his daughter that, in the midst of total environmental catastrophe on Earth, he goes on a decades-long mission to find them a habitable planet to which they can flee. Cooper's a pretty committed dad; his love for his daughter is so powerful that it essentially enables him to save the entirety of humankind.
From Paper Moon to Baby Boom, About a Boy to The Road, the trope of the long-suffering, loving-but-humanly-flawed single parent doing his best to raise kids on his own in the face of terrible odds has a long tradition on screen. Cooper is, I'd argue, one of the least compelling additions to this canon: the only "flaw" in his parenting is that he just loves his kid too damn much. He never screws up, never has a Kramer vs. Kramer "French toast moment" in which he burns his hand on a hot skillet and, fed up with how difficult and totally unfair it all is, screams "God damn her!" as his tiny son looks on.
For anyone who was raised for any period of time by a single parent, or has been a single parent themselves and found Cooper's saintly crusade sort of ridiculous, I present some of the most realistic, moving and memorable depictions of single moms and dads on film.
1. Kramer vs. Kramer (1979)
The best movie about divorce—possibly the best movie period—ever made. Dustin Hoffman is Ted Kramer, an out-of-work ad exec raising and fighting for custody of Billy, played by the heartbreakingly adorable Justin Henry (in a role for which he remains the youngest Academy Award nominee ever). The Kramers of the title are Hoffman and Meryl Streep, but the movie is really about Ted and Billy, and Ted's ham-fisted but well-meaning efforts to be a decent dad as his life falls apart.
2. The Goodbye Girl (1977)
Marsha Mason played a single mom in approximately 1,000 movies, 999 of them written by her husband Neil Simon, but The Goodbye Girl features her very best turn. She plays Paula, a struggling actress and single mother to Lucy, ingeniously portrayed by my childhood idol, the wee and irresistibly lisping Quinn Cummings. Richard Dreyfuss is Elliot, their wacky actor tenant who plays the guitar naked in the middle of the night. Yes, Paula and Elliot fall in love, but it's the mother-daughter relationship—Paula, doing her best but still messing up at raising wiser-than-her-years Lucy—that's the film's emotional center.
3. Terms of Endearment (1983)
Remember the checkout line scene in Terms of Endearment where Debra Winger scrounges for change to pay for groceries and her bratty son Tommy snarls incredulously, "You don't have enough money?!"? Oh god, I know, it's too painful to even recall. Her husband Flap (his name is Flap) is cheating on her, her mother is a controlling monster, she is about to find out that she's dying of cancer, she can't afford food—and she still buys that little shit Tommy a candy bar.
(It's not all bad—don't forget the sweet, younger son, played by Huckleberry Fox—obviously so named because he's an adorable woodland creature whose very darlingness is enough to make you cry.)
4. Only When I Laugh (1981)
Marsha Mason in another Neil Simon vehicle is the just-out-of-rehab mother to the Peppermint Patty of '70s teen actors, Kristy McNichol. (NB: For child star heaven, see Mike Nichols' Family, featuring both McNichol and Quinn Cummings.) The classic montage of them shopping together on Madison Avenue is the apotheosis of the mother-daughter buddy sequence—the single mom in a rare hero moment, which always comes just before some apocalyptic fight that threatens to tear apart their fragile union.
5. Slums of Beverly Hills (1998)
If it seems every film on this list was made in the 1970s, well, here's one from the '90s…that is set in the '70s. From 1960 to 1980, the divorce rate in the US more than doubled; about 50 percent of children born to married parents in the '70s saw their parents divorce, so it's no wonder the best single-parent depictions on the screen hail from that time.
In Slums of Beverly Hills, Alan Arkin is the put-upon father to three kids, moving his brood from one crappy Beverly Hills apartment to another in order to keep them in a good school district. The scene where he takes his daughter—Natasha Lyonne in the role that made her famous before Orange Is the New Black made her famous again—bra shopping is excruciating and perfect.
6. One Day at a Time (1975-1984)
On One Day at a Time, Ann Romano (Bonnie Franklin) was the single parent raising two teenage daughters (Mackenzie Phillips and the most glamorous girl I had ever seen, Valerie Bertinelli). They lived in a small Indianapolis apartment with the incongruous building super Schneider (Pat Harrington) weirdly hanging around all the time. Bertinelli and Phillips were the teenage girls I imagined my sister and I, both under five when the show first aired, would grow up into.
7. Mermaids (1990)
The scene at the end of Mermaids where Cher dances around the kitchen with daughters Winona Ryder and Christina Ricci to Jimmy Soul's "If You Wanna Be Happy" is pure bliss, and the sort of "everything's going to work out" moment you want at the end of a movie that, while on the light side, deals expertly with the ecstasy and confusion of first love (Ryder loses her V-card to Michael Schoeffling, aka dreamy Jake from Sixteen Candles) while your mom is negotiating a thorny romantic relationship of her own.
8. Boyhood (2014)
The film's praised for Ellar Coltrane's portrayal of the same role over a decade, but Patricia Arquette and Ethan Hawke's single parents are equally astounding. They're real people messily trying to figure their own lives out—going back to school, getting remarried, taking up with inappropriate partners—while trying not to totally screw up their two children.
I love the scene where Arquette is trying to get the kids into the car to move houses, and her daughter calls out, "Goodbye house, I'll never like Mommy as much for making us move!" and Arquette says, "Why don't you say goodbye to that little horseshit attitude, okay? Because we're not taking that in the car." It captures so perfectly the passive-aggressive communication style endemic to all families in transition.
9. This Is My Life (1992)
"Don't I ever get a turn? Isn't it ever okay for me to have a life?" screams Julie Kavner at her two precocious daughters in Nora Ephron's directorial debut. Kavner plays a doting mom who becomes a famous standup and leaves her kids behind to cultivate abandonment issues. Samantha Mathis and Gaby Hoffmann play Erica and Opal, the prototypical sulky teen and golden-child baby sis sibling duo that is a beloved mainstay of divorce movies.
This article was originally published on