Why Some Parents Get Pissed Off About Adults-Only Weddings
by Brandi Jeter Riley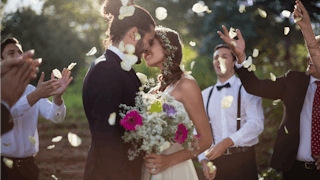 Wavebreakmedia / Getty
There was never any doubt about whether or not children would be present at my wedding. I was a single mom, so my preschool daughter was definitely going to be in attendance. Most of the friends we wanted to invite had kids, and we were each other's babysitters. An adults-only wedding wouldn't work in our community because there'd be no one there to watch the kids. From the moment we started planning the event, we included children.
That doesn't mean I can't understand why some people would prefer to keep kids away on their special day. As cute as they are, kids are unpredictable, and on a day that you've put a lot of energy and money into making everything go perfectly, they can totally be a liability. All of the children at my wedding behaved perfectly, but we also picked the kid-friendly time of day for the wedding (after the witching hour, but before the bedtime blues). We kept things moving with a quick ceremony, rushed through pictures, and there were plenty of family-friendly hors d'oeuvres to keep kids happy before dinner was served.
Having to plan the timing of your wedding around tiny little guests who aren't going to bring gifts anyway might not be something a bride wants to do. Completely understandable. Jennifer Spector, Director of Brand at Zola, a wedding website, said, "We had a black tie nighttime New Year's Eve affair, and we decided not to invite any kids because we weren't even exchanging vows until after bedtime."
Can you imagine what a nightmare it would be to have a wedding with overly stimulated, sleepy kids? Yeah, that would definitely be a big NO for me.
Weddings can be expensive, and even though kids be but little, they are expensive to include. I was shocked to discover that our caterer didn't offer any sort of significant discount for children's plates. I think we may have saved $5 per plate. Sure, that was something, but still not enough for me not to want to walk around on my wedding day and make sure all of the kids ate everything on their plate.
The people who get all up in arms about not being able to bring their kids don't always understand that, though. They think that their child isn't a big eater, or they can eat off of their plate. It just doesn't work like that.
"Weddings aren't cheap, and who wants to pay for a bunch of kids to eat?" Bernetta K. told Scary Mommy. "When you plan a wedding, you give the guest enough time in advance to get a sitter."
Childcare is actually a huge reason a lot of parents get offended when they get an invitation that leaves their kids out. When you're not the one getting married, having to think about coughing up money for a babysitter plus a gift is a lot to ask of someone who is merely an observer on your special day. Especially if you're doing a destination wedding. I'm all about the "you do you." However, if you're planning a wedding that's away from all of your loved ones, or even on an island somewhere that folks have to fly to and be away from home for a few days — who do you think is watching their kids?
The offensive part to me is that I believe in most of those situations, the invitee knows they really aren't interested in people actually attending. You don't have to play games. Just let me know where you're registered because that's the only reason I got the invitation anyway.
"I often wonder if it's couples who don't have kids yet that request no kids at weddings. Sometimes getting childcare or a babysitter isn't easy," Nancy C. told Scary Mommy.
And another mom agreed. "If you want an adults-only wedding, you can't also be pissy if I can't find appropriate childcare and am unable to come, especially if the wedding is any distance away," said Carissa B. "Hiring someone to watch your kids for many hours requires a different level of care provider than a teen who just needs to keep them alive for an hour or two while I run an errand real fast."
Before I became a mom, my cousin got married and I attended my first no-kids-allowed wedding. I was all for it. We drank, we danced, and it was a good time without a bunch of littles running around underfoot. The reception was seriously like a club scene with the dancing and free flowing drinks thanks to the open bar. Something happened about halfway through the reception with one of the groomsman. Apparently his babysitter had something come up and had to bring his son to the hall. When my cousin's mom refused to let the toddler in, the best man and his wife had to leave. I'll admit, at the time, I looked at it like it was no big deal. Now that I have kids of my own, I feel differently.
We've gone to weddings where my husband and I, as well as my in-laws, were invited. Trying to find a babysitter for our two kids was a nightmare. One time, my husband just went on his own. My kids are well-behaved (mostly) and I'd even be willing to pitch in to pay for a babysitter onsite with other parents just for the kids to be able to be included.
My friend Kat's wedding included nieces and nephews who stayed with a babysitter during the adults-only reception. When a cousin tried to sneak in their kids to the reception, Kat made the cousin pay the sitter and leave their children with the other kids — and she was completely unfazed by her cousin's attitude after being caught. "We had a lot of people who decided they'd rather not come than have to leave their kids with a sitter for the night and we were not the slightest bit offended."
Money isn't always the reason that kids aren't invited to weddings, though. Jennifer Spector from Zola said that some couples are actually planning more intimate weddings with bigger budgets. They're spending more per person to give their guests extraordinary and personal experiences. If you've ever taken a little kid somewhere super amazing only to watch them be totally impressed with the parking lot or the bathroom, you can understand why a couple wouldn't want to spend their budget on babies.
None of that matters to some folks, though. And people have feelings — BIG FEELINGS — about the issue. One bride we talked to was called "bridezilla" and "selfish" for not inviting kids to her wedding. Another decided against going to her sister's wedding out of the country since her kids weren't invited. And one mom said she finds it "incredibly strange and rude" not to invite at least nieces and nephews regardless of how young they are.
It all comes down to this: your wedding, your rules. Some people might be upset because their children aren't invited. Shit, I might even be upset that my kids aren't included. Hopefully they'll understand. Maybe they'll get over it, and if not, it's probably a good thing they didn't come to your wedding anyway.
This article was originally published on