The Best Part of Jeter's Final Game Wasn't His Game-Winning Hit
by Vinit Bharara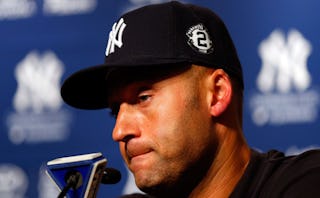 Like many other longtime Yankee fans, dads and moms, I watched last night's game and recorded it on my DVR with a little bit of an eye toward what I would show my kids the next day. They had gone to sleep with the score tied 2-2.
There were some things I knew were coming that would be cool – the thundering and sort of haunting sound of the entire stadium chanting his name in unison for several minutes, the way they did for Paul O'Neill in Game 5 of the 2001 World Series, when he stood in right field in the top of the 9th and you could tell he didn't really know what to do. We had just played that clip on YouTube a couple of weeks earlier.
I was thinking (and hoping) there might be a scene like last year when Mariano Rivera just collapsed into Jeter and Andy Pettitte's arms, bawling uncontrollably – and lots of us Yankee fans' throats got lumpy too.
And then I got lucky with the randomness of the game itself, which delivered surprise and drama like only sports can. You've seen all those highlights by now. There was madness and hoopla. And we even saw real human emotion from Jeter. Finally.
But for me, maybe the moment I paused and reflected more than any other was in Jeter's press conference afterwards. A reporter asked him what he meant by "My Way" in his latest Gatorade commercial. Jeter answered:
"Well, I know that there's a lot of people that have much more talent than I do. Not just throughout the course of my career. Not just now…But I can honestly say I don't think anyone played harder."
And then he paused just slightly and repeated the last sentiment, if only to emphasize this point.
"I don't. Maybe just as hard. But I don't think anyone had more of an effort. Every single day I went out there I tried to have respect for the game and tried as hard as I possibly could."
I had stopped recording by now, unfortunately. And yet there was something – not only in the substance of what Jeter was saying, but in the surefire way he said it – that I wanted my kids to hear.
At first glance, and maybe for a lot of people, his answer just seems like one of those overused, trite clichés you hear often, especially in sports. But it didn't feel like that to me last night. It felt like the whole story.
I know how cool, calm and clutch Jeter was and is – and I love him for that (and the 5 rings). But more than anything else, I will think of him as the example of greatness through steadiness. The guy who understood that while he might be shortstop of the New York Yankees, he was still working (even as he was playing). The guy who didn't just work hard, but who worked hard every day. There's something very un-hero-like in all of that, and yet I think it's what so many of us Yankee fans love him for.
Especially us fans in the Bharara family. Which includes even my brother Preet (who is the United States attorney for the Southern District of New York). In a recent interview, Charlie Rose asked him to elaborate more about a line from The Departed that Preet had mentioned in his commencement address at Harvard Law School earlier this year (Mark Wahlberg's "I'm the guy who does his job. You must be the other guy.") Among other things, Preet brought up Jeter:
"All big things are built from small acts and small things… People talk about Derek Jeter…What's impressive about Derek Jeter? He has an amazing record. But it's the everyday, day in and day out. Never missing a practice…Putting your head down and getting it done."
This article was originally published on