'The Blue Lagoon' Turns 35
by Lauren Paige Kennedy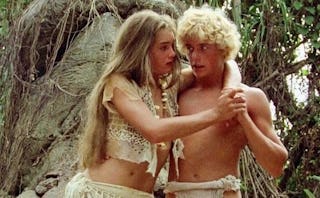 This month, The Blue Lagoon, the film that first titillated Gen X tweens and teens who were then barely in the throes of puberty, turned 35.
Oh, how I remember the summer of 1980 well. I was 12 and had just finished the seventh grade. My joint obsession with both blond Adonis Christopher Atkins and the unearthly and beautiful Brooke Shields knew no bounds.
Sneaking into this R-rated movie with a group of my curious friends, I experienced what can only be called an awakening (a word that was eventually used in the title of the corny 2012 sequel). Because let's face it, people, this movie by any definition, then or now, borders on kiddie porn.
Can you imagine this rather sordid piece of entertainment being released in 2015? Whose official trailer bills it as a love story about: "the mystery of desire…She sees that his shoulders are wide. She senses there is one secret here she doesn't know. And something insider her stirs…Columbia Pictures presents a sensuous story of natural love."
Ewwww! As a parent I'm thoroughly grossed out by this! Aren't you? Grown adults being wooed into watching gorgeous, naked teens have sex on the beach? Aren't people arrested for this now?
Shields, who goes topless during much of the film (although her long hair was reportedly glued to cover her breasts), was a mere 14 when she filmed the cult classic, opposite Atkins' comparatively advanced age of 19. Already famous for the scandalous Pretty Baby, in which she plays a 12-year-old prostitute, and only months before her notorious "Nothing comes between me and my Calvins" ad campaign hit the airwaves, Shields was to us Gen X kids, in a word, the shit.
For a certain segment of impressionable girls like me, there was simply no greater or sexier star alive. Not Kristy McNichol or Tatum O'Neal, who appeared together that same hot summer in the similarly tempting Little Darlings, opposite the so incredibly studly Matt Dillon. But by stranding a nearly nude Shields on a remote island with turquoise-blue waters and a yellow-haired hunk dressed in a shredded white thong, there could be no competition. This was serious teen bait, and we lined up in droves. Or, rather, we told our parents we were heading to the mall, only to purchase tickets for some other G-rated film, and then quietly enter the darkened screening room where Lagoon was playing in all its tri-color glory.
Here are my favorite highlights from The Blue Lagoon, some of which make me positively shudder now:
1. When Emmeline (Shields) first notices Richard's (Atkins) bronzed body
They swim together and play in the surf. They frolic in severely torn clothing in the sand. They spearfish and pick fruit from trees—but avoid the poisonous berries at all costs. One day, Em can't help but stare down Richard's bulging, er, biceps.
"What are you looking at?" he says, embarrassed, when he catches her lustful gaze.
"Your muscles," she answers, openly swooning.
2. When Em gets "funny thoughts"
Richard sweetly fakes a Christmas morning, complete with presents for his sandy love. Then he talks about how they should make New Year's "revolutions" to stop fighting so much. That's when Em admits she's had strange feelings for her man. Cue another awkward stare and awesome teen moment.
3. When Em gets her period
Em sees the lagoon fill with her menstrual blood. She screams for Richard to help. "What's wrong?" he yells, bounding upon the gory scene. "You're bleeding!" he exclaims. Upset, she tells him to go away. As a girl who'd recently gotten her period for the first time just months before, it goes without saying this was a very big moment for me and my similarly blood-letting tribe.
4. When they fool around beneath a waterfall
And on the rocks. And in the sand. And in the waves. And in their hut. No further exposition needed here. All eyes glued on the screen.
5. Then they get fake married!
The kids conveniently have access to an old trunk that had washed ashore with them so many years before, complete with a white Victorian wedding gown and a music box, because this is what usually happens when shipwrecked, right? Their hut is fancier than my Midwestern home. They slowly waltz and we know they've unofficially tied the knot.
Time to get down some more—this time legitimately.
6. Em gets fat, is pregnant and doesn't know it!
Richard notices how much Em is eating, and like so many men out there, lets her know it. She complains about her stomach hurting, and tells her island BF she's not in the mood. "Don't you love me anymore?" he whines. If only we mothers could speak for Em now: "Dude, she's got what feels like a 9-pound burrito in her gut—if a burrito could kick, that is. Of course she loves you—she let you do this to her, didn't she?"
7. Em learns to breastfeed in seconds.
Yes, it's always so natural and goes so easily: newborn, starved and wailing. Mother: clueless and worried. By the purest of accidents, it seems, Em cradles her baby near her exposed nipple. Baby latches on, no prob. Milk does not fail to appear for hours or days, as in the modern world. Baby feeds. I bet the baby slept through that first night, too. Ah, island life.
In short, no matter how warm and fuzzy you feel when thinking of this summer fling from so long ago, parents, screen it before you allow your tween or teen to do the same. (You can watch the movie in full, and for free, now on YouTube.) Odds are you'd rather see your child marooned on a deserted island—and not with a sinewy, half-dressed adolescent of the opposite sex for company—than allow him or her to freely explore the overtly sexy, sometimes cringe-inducing shenanigans found in The Blue Lagoon. (Sorry, Brooke. We still love you.)
This article was originally published on