The Top 5 Most Hilarious Melissa McCarthy Moments On 'Gilmore Girls'
by Melissa Kirsch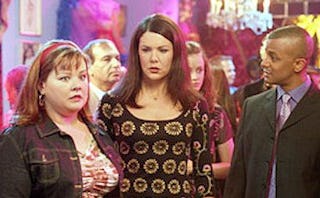 One can cut Melissa McCarthy a little slack for not showing up to the Gilmore Girls reunion in Austin, Texas, this weekend—she must have been pretty busy celebrating that her new film Spy got killer reviews and won the weekend box office.
But any real McCarthy fan knows that her true comedic genius was on display way back in the early aughts when she portrayed Sookie St. James, Stars Hollow's most adorable chef and sweetheart sidekick to Lorelai Gilmore on Gilmore Girls. Show creator Amy Sherman-Palladino recently revealed that she had to fight to get McCarthy cast on the show, and all I have to say is thank heavens, for without McCarthy, we'd be without these moments of comedic genius that made an already pretty phenomenal show that much more hilarious.
1. Sookie gets drunk.
The scene: It's Thanksgiving, and Sookie's husband, Jackson, and his family are deep-frying everything, including the turkey.
The best line: "I've already gone through the five stages of grieving: denial, anger … I don't remember these two but they were served on the rocks with salt!"
2. Sookie is sick of being pregnant.
The scene: Sookie arrives unannounced at Lorelai's and lets loose about how she's on her way to being the fat guy in Monty Python's The Meaning of Life.
The best line: "It's not coming out! The ship's too big and the bottle's too small!"
3. Sookie sends Jackson to get a vasectomy.
The scene: Sookie's sitting up in the hospital bed, having just given birth to their second child. Jackson wants to discuss their third kid, but Sookie's already got him an appointment downstairs to ensure that third kid never happens.
The best line: "You go in, lie down, close your eyes, snip snip, and you're shooting blanks."
4. Sookie sings her would-be hit song, 'Cookies.'
The scene: Rory stops by the inn to pick up some of Sookie's rocky road cookies, and Lorelai and Sookie proceed to tease Rory about her relationship with Dean. Sookie even creates a song about cookies and Dean.
The best line: "Cookies for the love and the Dean."
5. Sookie is the BFOTB.
The scene: Lorelai and Sookie are planning Lorelai's wedding at Luke's, and Luke is interfering. Sookie informs him she is the BFOTB, Best Friend of the Bride, and should not be messed with.
The best line: "Luke! Who am I?!?!?"
This article was originally published on