The World Fell In Love With Amanda Gorman, So Now Let's Show Up For Her
by Leah Campbell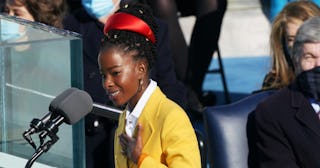 Erin Schaff/The New York Times/Getty Images
Living in Alaska, I wasn't initially planning to watch the inauguration events live. We're 4 hours behind EST, and I'm not generally a morning person. I figured I would catch everything after the fact, and I was mostly okay with that—especially because I was worried about violence erupting.
But when the time came, I found myself awake anyway (thanks to a sick dog—gotta love pet ownership). And so I laid in bed with the lights out, watching the inauguration and feeling like I could finally breathe again for the first time in four years.
At some point, my daughter crawled into bed with me, awakened by the sound of my television. And minutes later, National Youth Poet Laureate Amanda Gorman took the stage.
I'm not exaggerating when I say that watching that performance live with my 7-year-old daughter was one of the most special moments we've shared. And my daughter is indigenous, so seeing a WOC be sworn in as VP was already a pretty big deal.
But Gorman's words. Her poise and grace on that stage. It was magic. SHE was magic. My daughter and I both had tears in our eyes listening to her speak, and when she was done, my little girl put her arm out to me and said, "Mom, I have goosebumps!" showing me the proof.
It's fair to say we are both now thoroughly obsessed with Amanda Gorman.
I know we're not the only ones. I know there were millions across the country moved by her performance. Let's be honest: at 22 years old, she stole the whole dang show.
But I also know most people likely don't realize how they can best show their support for her now that the inauguration is over. And that's why I'm here to tell you: Amanda Gorman has two new books coming out later this year, currently available for pre-order. And the very best way you could show your appreciation for her performance is by ordering those books now.
As an author myself, I can tell you that pre-orders hold a lot of weight with agents and publishers. They are constantly looking at those numbers as a measure of an author's success. Gorman is too, as she gleefully announced on Twitter last night that her books had skyrocketed to the #1 and #2 spot in Amazon book sales.
This is a BIG deal for a young girl with a truly exceptional life ahead of her.
So if you haven't done so yet, join those of us who already have and lift Gorman up by ordering her books.
"Change Sings: A Children's Anthem" is described as a lyrical children's book my daughter is already desperate to receive.
And "The Hill We Climb: Poems" is a collection of Gorman's poetry, named in honor of (and including) the poem she performed on inauguration day.
Both will be released on September 21st, which I know feels like forever to wait right now. But until then, you can follow Gorman's success on Facebook and Twitter (both @TheAmandaGorman).
This is a young woman who may just change the world with her words. And I, for one, can't wait to watch her do it.