These 5 Back-To-School Prep Tips Are Sure To Get You A First Day Win
And they each only take two minutes.
Written by Lib Aubuchon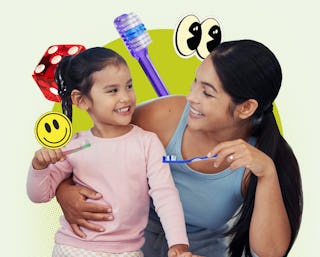 PeopleImages.com - Yuri A/Shutterstock
Remember those carefree mornings before kids, when the only person you had to get out the door was, well, you? Flash forward to today, when our mornings are all about finding lost socks and pleading with kiddos to brush their teeth. I see you, sisters.
After one too many hectic school day mornings (misplaced sneakers, uneaten breakfasts, toothbrushing standoffs — you know the kind), I figured out how to head off those frantic clock-watching mornings and bring back the cool-mom vibes I love to pretend to have. We got our mornings — and my peace — back on track with a few simple but genius routine changes.
For starters, we ended the battle over morning brushing by switching to Crest Kids Color Changing Toothpaste. Turns out kids are way more into brushing their teeth when they can watch the yummy bubble gum flavored toothpaste change from blue to pink during two minutes of brushing (also a sigh of relief for me, knowing they're protected against cavities).
This busy mom's favorite part of these first-day hacks? They only take two minutes each. So grab your (hopefully still hot) coffee, read on, and let's conquer that morning routine together.
1. Outsource Your Lunch Packing
Here's the thing: Just about any kid older than 3 can pack their own lunch. The key is prepping in advance so all they have to do is grab a couple of (mom-approved) selections and put them in their lunchboxes. Create a designated fridge drawer or pantry basket filled with healthy, easy-grab snacks and lunch items. Refill it on Sundays so you're always ready with on-the-go options. Your kiddo gets to feel like they're making their own choices without being overwhelmed by too many options.
2. Make Brushing Fun
Tooth brushing used to be one of our biggest morning struggles. (I still cringe when I think of how many times I've uttered the words "Let me smell your breath.") Even when I got them to stop complaining and start brushing, my kids would brush for about eight seconds. That's why Crest Kids Color Changing Toothpaste is such a game-changer. Not only does the color change help kids brush up to 2x longer and reach that full two minutes (praise be), but it also contains fluoride to fight cavities, helping them establish healthy habits they can take into adulthood.
But don't just take our word for it. Content creator Anite Gashumov kicked off this new school year by checking off a major mom win thanks to Crest, too: "I never thought my son Zeke would be excited to brush his teeth, but now he loves to brush the full two minutes and watch the colors change. I don't have to worry about him getting the cavity protection he needs or struggle with dragging him through brushing, which gives me peace of mind knowing he's building a lifelong healthy habit."
3. Create A 'Ready To Go' Station
There's nothing worse on a school morning than looking for an important paper, soccer cleats, a jacket, or anything else they can't leave without. As part of your evening routine, chat through what needs to go with them to school the next day, and designate a specific place in your house for shoes, backpacks, and homework. Having everything live in one spot means less last-minute scrambling because all the essentials are right where you need 'em.
4. Take A Moment To Pause
Spend two minutes on positive self-affirmations or quick, encouraging pep talks with your kids. This can boost everyone's mood and start the day on a positive note. You could even do a two-minute morning stretch or dance to pep them up on those draggy mornings.
5. Move 'Get Dressed' To The End Of The List
There's nothing like an unplanned juice makeover to ruin a carefully-chosen school outfit or freshly ironed uniform. That's why getting dressed should be the last part of your morning routine. After breakfast and after toothbrushing, put on a favorite two-minute song and challenge your kiddo to get dressed before the last chord ends. Congrats — you just turned an annoying morning chore into a game.