10 Things To Do In Chapel Hill and Durham With Kids
by Allison Barrett Carter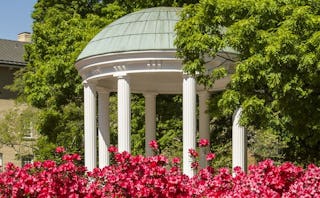 Chapel Hill and Durham, North Carolina, are kind of like Nicole Richie & Paris Hilton back in their heyday: They both need each other, they love each other, but they really just want the spotlight all to themselves. Get what I am saying? So, if you come this way, you don't want to offend either one of these beautiful cities. See both! Here are my favorite things to do in Chapel Hill and Durham with kids…
1. Museum of Life + Science (Durham) This spot is the number 1 pick for families in our area, always. The Museum of Life + Science has indoor and outdoor activities for kids of all ages and it keeps it fresh for everyone with special rotating exhibits. (And PS- if you are visiting a Durham resident have them take you on a Wednesday between 1 – 5 pm as it is free for Durham residents then.
2. UNC's campus (Chapel Hill). UNC-Chapel Hill is the original school of the UNC system, the oldest public University in the country. It is gorgeous. There is a large lawn to sit on (grab food and sweets from any number of places on Franklin Street, which is across the street from campus) and certainly take your picture at the famous "old well." Walk through the Arboretum. Enjoy the magical Forest Theatre. Got older kids? See a show at Morehead Planetarium.
3. Eat! Both towns are full of award-winning food you won't want to miss out on. The NY Times has talked about the food in Durham a few times. I know you don't want to spend a lot of money on a fancy dinner with children who run around like savages. So head to: Bull City Burger & Brewery (Durham), Foster's Market (Durham & Chapel Hill), and Dame's Chicken & Waffles (Durham).
4. See the Durham Bulls play baseball. This team was made famous by the movie Bull Durham. Seeing a game in person does not disappoint. This is an affordable, fun outing that kids of all ages will enjoy.
5. Drink at Fullsteam Brewery (Durham). I know, yes, with KIDS! Durham and Chapel Hill got on the microbrew train years ago and great breweries have been popping up all over. At Fullsteam you can spend time trying local brews while the kids play with the arcade games, ping pong tables, and the old organ on stage.
6. Duke Lemur Center (Durham). A hidden gem of our area and you will want to sing "I like to move it, move it" as you watch these curious animals jump all over. There are about 250 animals (15 species) here. The Center's staff will take you on an inside tour and tell you about the animals on site.
7. The Lawn at Weaver Street Market (Carrboro). If you want to see the hippier side of our area, roll down the street from Downtown Chapel Hill to Carrboro, NC. This little town is called the Paris of the Piedmont. At Weaver Street Market you can get locally grown, organic food inside (and a beer or two!), and sit outside on the expansive lawn. Most months of the year they offer live music a few times a week. But if there isn't any, people-watching will be exciting enough. Fancy a hula hoop go?
8. Pick a garden: NC Botanical Gardens (Chapel Hill) or Sarah P. Duke Gardens (Durham). Any time of year these gardens are worth exploring. NC Botanical Gardens are more "natural" and there is a unique area for children's exploration. The Duke Gardens are more pruned and themed but you can feed the ducks at the pond and who doesn't love that?
9. See live music. Chapel Hill, afterall, launched the careers of James Taylor, Squirrel Nut Zippers, Archers of Loaf, Superchunk, Ben Folds Five, and more. We love music. Family-friendly venues include Carolina Inn's Fridays on the Front Porch (Chapel Hill), Weaver Street's AfterHours (Carrboro), American Tobacco Campus (Durham), the Southern Village Green (Chapel Hill), and Brightleaf Square (Durham). If you are visiting out of season you can look to the Durham Performing Arts Center for Broadway shows. I am not sure I would take the kids, but Cat's Cradle (Carrboro) is the pulse of the music scene here.
10. Have tea at the The Carolina Inn (Chapel Hill). The Inn is a Member of the Historic Hotels of America, a AAA Four Diamond award winner, and they do a Little Prince and Little Princess tea menu that is so sweet and special. Just call ahead of time!
We've got it all here: award-winning food, good drinks, classy venues, music, hippies, history, natural beauty…what are you waiting for?! Come visit!
This article was originally published on