13 Things To Do In Austin, TX With Kids
by Evin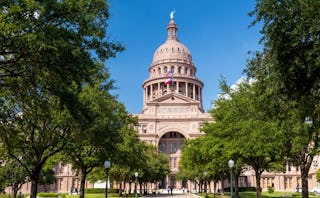 Visiting Austin, TX with kids? You'll all fall in love with this cool and vibrant city! Be sure to check out my top family-friendly Austin spots below.
Kids Attractions in Austin, Texas
Explore Austin's cool caves at Inner Space Cavern. Cave exploring is one of the best things to do with kids in Austin, TX. Not only is Inner Space Cavern one of the oldest and best-preserved caves in the state but real prehistoric remains were actually found there — how crazy is that!? Take an Adventure Tour to check out the stalactites and stalagmites.
You're going to want to wear some non-slip shoes even though you'll follow a paved, lit trail around the caves. If you get caught up having a late lunch with the kiddos, have no fear. The family-friendly tour runs every 20-30 minutes.
If caves are too dark for you, swing by Thinkery (formerly known as theAustin Children's Museum). It's really just flippin' fun – for everybody. It's one of those "Get out of the way, kid, and let mommy play" kind of places. You'll love it too! There are tons of exhibits and things to climb on for you or the kids.
Want to dig into Austin history a little bit? Take a trip back in time at Camp Mabry. It's a closed army base with the Texas Military Forces Museum on-site, big grounds to run around on, and lots of cool weaponry for the kids to play with.
Another great place to visit with kids in Austin is the Texas State Capitol. It's cheesy and "touristy" but it's really gorgeous and fun – and can be educational, but doesn't have to be. It's also "one of the most distinguished state capitols," according to its website. Take your time and poke around, it's very accessible!
Places to Eat in Austin
Family-friendly restaurants in Austin aren't hard to find, with many options in various cuisines in and around the city.
Kerbey Lane Cafe is one of the best restaurants in Austin and a family-friendly favorite most-known for its calm atmosphere and good food. Bonus: kids eat free on Tuesdays — can't beat that!
If your kids love getting their hands dirty (what kid doesn't?) then check out Home Slice Pizza Austin. At this kid-friendly pizza place —complete with an outdoor space and play area— kids get to play with dough until their food comes out. I can think of worse ways to keep a kid busy!
If you're looking for more casual dining, check out one of the many food truck parks. There are tons of them, but these are the 7 best food truck parks according to TripSavvy. They're usually cheap, there's something to please everybody, and there's plenty of room to run around and get the crazies out.
For a post-dinner treat (or just a treat in general), you can enjoy some ice cream on the cows at Amy's Ice Cream at the Arboretum. Is there anything more awesome than sitting on a life-size stone cow and eating the magical frozen fruits of their udders? I think not.
Outdoor Activities in Austin, Texas
You have to visit Zilker Park. Visiting the park is free, unless you pay a couple bucks to park, and hours of fun. You can play on all the playscapes, feed the ducks, splash in the creek, ride the train – plan at least a whole morning or an entire afternoon – an hour won't be enough.
Another great place to be outdoors in East Austin is Boggy Creek Farm. Pick your own fruits and veggies. Fun, educational AND nutritious! Win for everyone.
If you're in town on a Saturday, you have to check out the giant downtown farmers' market, SFC Farmers' Market. By far one of Austin's best farmers' markets, it's huge and well-priced and there's lots of strange dogs to pet and new foods to try – open year-round, rain or shine!
Shopping in Austin
If you love to shop, you have to check out The Drag before you leave town. A popular section of Guadalupe, a street near the University of Texas campus, it's full of trendy shops, an open air market, cool divey restaurants, college kids and weird "Drag rat" kids who attempt to look homeless before going home to their suburban mommies and daddies.
MORE: Things to Do in Atlanta With Kids
Things to Do in San Antonio With Kids
Things to Do in Houston With Kids
This article was originally published on