Things To Do In Washington, DC With Kids
by jessicaAPISS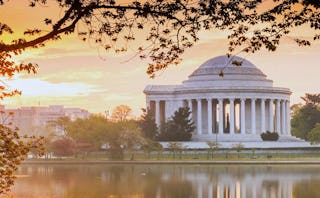 If you're looking for a great family vacation destination, put Washington, DC on your short list. Our nation's capital is a beautiful place to visit all year round — no matter what your political beliefs are. In fact, the one thing both sides might agree on is how many great things to do in DC with kids there are!
Some of the best attractions in Washington for kids are its historical monuments and museums, many of which are considered the best museums in the U.S. These institutions are both fun and educational. So, forget about anyone suffering family vacation brain drain while you're in town. Need a little more convincing? Read on for our picks for the best things to do in Washington, DC with kids.
Best Museums for Kids in DC
As we mentioned, Washington, DC is home to some of the top museums in the nation and the world. So let's start our list of the best things to do in DC with kids with them.
The Air and Space Museum is an absolute must-visit when in Washington, DC with kids. Not only can they get handsy with an actual lunar rock, but they can see the Wright Brothers' 1903 Wright Flyer airplane that started America's aviation aspirations. Leave time to see the Observatory on the museum's southeast terrance.
The downtown Air and Space Museum gets all the attention (and Ben Stiller movies). But its larger Smithsonian sister museum near Dulles Airport in Chantilly, Virginia, has even more more planes and space artifacts for those History-Channel-obsessed family members as well as acres more space for cuckoo-crazy children to run off their demons.
From the Hope Diamond to the newly opened Hall of Fossils, there are literally millions of things to see at the worlds' most-visited natural history museum. Bonus: Admission to the National Museum of Natural History is always free (though some programs and exhibits may have a special fee). When hunger strikes, head to the museum's new dining area. Not only will you avoid hanger tantrums, but you'll also chomp alongside a 52-foot-long model of a female megaladon shark. Her presence is sure to keep the kids from bickering at the table!
Admission is also free to this Smithsonian museum dedicated to collecting and preserving American history. Its wide-array of exhibits include the original Star-Spangled Banner, Abraham Lincoln's top hat, the first artificial heart and even Dorothy's ruby slippers from "The Wizard of Oz."
The newest Smithsonian museum, the NMAAHC is a powerful lesson on injustice and equality. There are more than 36,000 artifacts documenting African American history, culture and life and family-friendly programming. Be sure to eat at Sweet Home Cafe, which offers traditional, modern and authentic African American fare. Admission is free, but timed passes may be required, so check the website.
This Smithsonian institution has has one of the world's largest collections of Native American art and artifacts. Its imagiNATIONS Activity Center offers one of the most incredible museum experiences for kids — and adults. Through interactive and fun exhibits, you'll discover just how much of today's world and technology is rooted in our Native American past. Bonus: An interactive area for infants and toddlers is in the works. But until it's open, there's a special pop-up room for them to enjoy sensory experiences just like the big kids.
The USHMM is a free, sobering and powerful history lesson, memorial and educational facility. Daniel's Story is geared for kids 8 and up. The interactive exhibit shows the Holocaust from the perspective of a young boy living in Nazi Germany.
The whole family can learn about the intriguing world of espionage at this interactive museum. Hear from real spies, discover their tools of the trade and even test your own spy skills. All this knowledge will surely come in handy when you and the kids enter your inevitable snooping phase. Note: While kids of all ages will enjoy the International Spy Museum, it is best for ages 7 and older.
This is currently a virtual museum centered on interactive STEAM (science, technology, engineering, art and math) exhibits. But when it reopens near the National Mall in November 2019 after a lengthy revamping, the National Children's Museum is sure to quickly become one of the best museums in Washington, DC for kids.
Outdoor Activities in Washington, DC for Kids
After spending so much time indoors seeing all the great museums for kids in DC, you'll likely be hankering for some fresh air. Good thing there are tons of outdoor activities in Washington, DC for kids, too.
Spending time on the National Mall is worth a stop on your family vacation in Washington, DC. You can stand in the same place where so many historic and important moments for our country took place. And, if we're being honest, you'll nab some beautiful pics for Instagram. Among the many monuments you can take in are the FDR Memorial, Korean War Veterans Memorial, Lincoln Memorial and the Washington Monument, which will finally reopen in September 2019. And don't forget to take a spin on the Carousel on the National Mall.
Before exploring the National Mall with kids, be sure to download a Junior Ranger booklet or pick one up at the ranger station for your kids. If they complete a certain number of activities for their age group, they nab a ranger badge!
National Harbor Marina has lots of great events for the whole family. Plus, the NHM has lots of family-friendly attractions, too. Take a spin 180 feet above the Potomac on the Capital Wheel or on the carousel, where there's also a playground and toddler play area. In addition, National Harbor Marina offers free movies and concerts in summer.
Enjoy the Potomac River
Want a unique way to play tourist without walking around too much? The easiest and most pleasurable way to show your kids all those big marble testaments to democracy (and beat the often-muggy DC weather) is to see them from a breezy boat on the Potomac. If you have a toddler or preschooler, spring for the DC Duck tour. Everyone will love the amphibious vehicles, but know you may hear a lot of annoying quacker noisemakers.
If you'd rather be your own captain, Paddle the Potomac. Outdoorsy, athletic parents and big kids with lots of energy will love renting kayaks or canoes to explore the Potomac River and paddle past Abe, Tom and other famous sites.
Georgetown
If your teen has Hoya hoop dreams or you just love luxury neighborhoods with good dining and shopping, the area surrounding Georgetown University is a great spot for subtle history. Think cobblestone streets with a Coach store. Make sure to stop at The Tombs if you're in the area. The Tombs has a great kids menu and plenty of just-for-adults beverages. If the mood strikes you or you want to embarrass the kids, belt out the St. Elmo's Fire theme. The movie was filmed here. Bonus: The restaurant is close to Georgetown Waterfront Park, which has great views and a splash fountain.
Old Town Alexandria is a great family-friendly attraction. This historic village is packed with tons of things to do with kids, but with a whole lot less tourists than DC. Our family had a great time taking the town scavenger hunt for kids. It hit most of the kid-friendly attractions in Old Town Alexandria, so no one got bored. We also loved climbing all over the huge anchors in the waterfront park.
Before heading back to DC from Alexandria, pop into Mount Vernon, the estate of George Washington. Mr. I-Cannot-Tell-A-Lie's home is super cool for kids and adults if you've never been. If you visited as a kid yourself, you'll see two important additions: First, a special tour of the slave quarters make this a more realistic and important history lesson. Second, the new visitor's center has a kids' playroom for littles who have no interest in 18th century traditions.
This is a truly stunning family-friendly attraction in Washington. It takes place for a few weeks every March and April, and you'll get probably the best family photos of your life amid all those pink petals. But it's more than pretty blooms. So, be sure to check out the kite festival, parade and the live music, activities and giveaways at Petalpalooza.
One of the best things you can do when you're in Washington DC is take a private U.S. Capitol Tour. There is no reason to wait in line for a public tour of the Capitol when there are hundreds of young interns and staff assistants eager to leave the mailroom and phones and show you around. A few months before your trip to DC, contact one of your U.S. Senators (their staffs are larger than House Members') and arrange a VIP experience.
If you're in the mood for something more traditional, you may want to take a White House Tour. Yes, you CAN go right inside the president's pad (well, the public rooms), and when you call that Senator's office for the Capitol tour have them hook you up with tickets to La Casa Blanca. Note: You are more likely to strike gold if you give three-six months notice.
Of course you can't leave DC before visiting the National Mall. Even if it's just to stand in the same place where so many historic and important moments for our country have taken place, it's worth the stop. While you're there you can see the Lincoln Memorial, the Washington Monument, Constitution Gardens and more.
Kids Attractions in Washington, DC
Now that we're done listing the best museums for kids in DC, here are some other great attractions in Washington, DC for kids.
The Smithsonian National Zoo is one of the most impressive zoos in the country with lots of daily shows and family-friendly programming. With 2,700 animals, you'll see everything from alpacas to zebras. But, its giant pandas Tian Tian, Mei Xiang and Bei Bei are its biggest (and cutest) residents, IMHO. The best part? You can keep up up their adorable antics via the National Zoo's Panda Cams when you're back home.
You might not think a place full of priceless art is a place to take your wild brood. But, the National Gallery of Art is another great family-friendly attraction in Washington, DC. Yes, you can see works by da Vinci and van Gogh, but the NGA also offers fantastic family programming, including workshops, films, drop-in art making and storytimes. Don't miss the Sculpture Garden, especially in winter, when its huge fountain transforms into an ice rink.
Bad or hot weather during your family vacation to Washington, DC? Let the kids run off steam at this DC-area indoor playground. There are two locations, one in Chantilly, Virginia, and the other in Columbia, Maryland. Both are huge with jungle gyms, swing sets, trampolines and much more. Do call ahead because open play often reaches capacity when there's inclement or hot weather.
Badlands is another great indoor playground near Washington, DC. The 30,000-square-foot facility promotes active and passive play, mindfulness and risk-taking. Kids can get building using real tools in the workshop, scramble up the mountain and enjoy the toddler play space. Plus, there are enrichment classes, a cafe with locally sourced fare — and wine by the glass.
One of the best things to do in Washington, DC is a guided tour of the U.S. Capitol. You'll visit the rotunda, National Statuary Hall, where you'll find statues of prominent Americans, and the crypt, which was originally supposed to serve as Washington's tomb. While you can sign up via the Capitol's site, you can also contact your local representative or senator a few months before your trip as they may offer their own staff-led tours.
To take a public tour of the White House, you'll need to contact your member of Congress at least three months before visiting Washington, DC with kids. Tours are free, and on a first-come, first-served basis, but they are subject to last-minute cancellations. So, be sure to call the visitor's office hotline at 202-456-7041 before heading to your scheduled tour.
Yes, many of our favorite things to do in Washington, DC with kids is heavy on history. But don't worry, this Gold Rush-themed waterpark in nearby Reston is a place to give your "inside voice" the day off. Enjoy an interactive waterplay area, slides, flumes, sprays and more. In addition, there's a lazy river and Tenderfoot Pond, which offers smaller slides and calmer bubblers for toddlers.
Kids of all abilities will love the accessible and sensory rich playground at Clemyjontri Park in McLean. In addition to ramps, swings and monkey bars, there are four "rooms" surrounding a carousel. Each room is fun with an educational twist, such as teaching colors of the rainbow or how to tell time. The park has restrooms and a covered picnic area.
See a Pro Sports Game
Washington, DC is one of just a few cities with an NFL, MLB, NBA, NHL and WNBA team. So, there's a good chance you'll be in town when the Washington Redskins, Washington Nationals, Washington Wizards, Washington Capitals or Washington Mystics, respectively, are playing.
Alexandria, VA
Old Town Alexandria, Virginia is a great place to spend time with your family just outside of DC. Located right next to Ronald Reagan National Airport, this historic village is packed with things to do for kids (with a whole lot less tourists than nearby DC.) Our family had a great time taking the town Scavenger Hunt for kids, which hit most of the kid-friendly attractions without anyone getting bored, and climbing all over the huge anchors in the waterfront park.
Mount Vernon is another nice place to visit. Alexandria is right near Mr. I-Cannot-Tell-A-Lie's home Mount Vernon, which is super cool if you have never been. Two important additions if you went as an eighth grader: a special tour of the slave quarters make this a more realistic and important history lesson, and a new visitor's center with a kids' playroom for littles who couldn't care less about 18th century traditions.
MORE: Best Things to Do in Baltimore With Kids
Must-See Spots in Denver to Visit With Your Family
Touring Cincinnati With Toddlers
This article was originally published on