This New Creator Space For Kids Is Your Answer To The Dreaded "Mom, I'm Bored"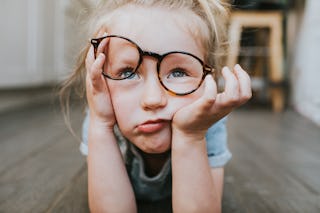 Catherine Falls Commercial/Getty
For the sake of my sanity, I'd like to believe it can't just be my two littles who pick the most inopportune and inexplicable times to cry boredom. It's not just me who feels like she's constantly offering up suggestions that are shot down while silently screaming inside, right?
If you feel this pain — and even if you're one of the lucky ones who hasn't (yet) — I'm excited to tell you about a solution I just discovered that can help your whole family kiss those boredom blues buh-bye: the PEBBLES™ Kids Creator Space. Brought to you by the brilliant minds who gifted us with Fruity PEBBLES™ Cereal and Cocoa PEBBLES™ Cereal, the online space is all about sparking imaginations and celebrating creativity with fun prompts that challenge your kids to think outside the box. (Sorry, had to.) The prompt from December encouraged kids to submit the art work they created while stuck at home for a chance to have it featured in outdoor galleries all over the country, and in a virtual gallery that could be visited from anywhere in the world.
If you missed the mural prompt, don't sweat it; there are three more equally inventive challenges rolling out throughout the year, with the next one expected to drop in March in the PEBBLES™ Kids Creator Space. And without giving it away, I will say that it's a slam-dunk (and super easy) way to up-cycle your cereal box.
As a mom of two boys, I'm grateful that the Creator Space comes through with fresh ideas to encourage my kids to express themselves while sparking their curiosity. Chock full of interactive craft project ideas, artwork contests, yummy recipes, and more, it feels like an accessible resource for raising well-rounded, self-minded, and blissfully *not* bored little humans.
Even without the extra inspiration from the PEBBLES™ Kids Creator Space, my kids have DIY'd at least two cereal box guitars (which my youngest just proudly toted to school for the most recent round of show and tell, earning some serious cool points with his class), and the PEBBLES™ Cereal Snowman Craft is the play date activity on deck for this weekend, though I've been warned there will be more eating than crafting going on.
Needless to say, this family is excited to see what the PEBBLES™ Cereal team comes up with next — and from one mom looking for fun and affordable boredom busters to another, I highly encourage you and your kids to check out the space for yourselves. I have a feeling you won't be disappointed.