The TikTok Youths Are Mocking Our Side Parts & Skinny Jeans
by Valerie Williams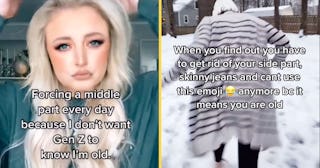 blushliz/theresa.jones/Tik Tokthat'
The Youths think our side parts and skinny jeans are lame, you guys
Hello fellow Elder Millennial moms. Did you just slip your 37-year-old butt into a nice pair of skinny jeans and check in the mirror to make sure your side part is on point? If so, FYI, the youths of TikTok think you're a style-free dork. Yup, that's right. The generation whose WiFi and phones are financed by us thinks we look old in our flatteringly snug jeans and sleekly side-parted hair. Excuse me if I'm not going to take fashion advice from the crowd that only wears scrunchies on their wrists.
So I'm an Old on TikTok. As a member of the late 30s crowd, I'm basically grandma-age in a sea of people born after 2000 — the year I graduated high school.
Anyway.
That means I am very used to this app making me feel extremely ancient, but I am not used to my fellow users shaming my cute skinny jeans and sexy side part. I mean, who do these zygotes think they are? We MADE them. In some cases, LITERALLY.
Like, it's hurtful you guys.
They're calling us out. Us. The ones who PAY for their weird, baggy jeans, ugly sneakers, and dumb haircuts.
But no matter how much they shame us, it's never happening.
This is our team uniform y'all. We wear it with pride.
Loud and proud member of OldTok.
Basically, this. We were here first, kiddos.
I took my daughter to Target the other day to grab her some new clothes and do you know what that child drooled over? High-waisted, acid-washed mom jeans. You know, the ones that accentuate the FUPA or create a FUPA we wouldn't otherwise have? She got home, put them on, and came downstairs, center part blazing, thinking she knows what's up.
Now — I know every generation is different as far as style and what's trending. But I come from the generation that exhausted the baggy jeans trend back in 1998, and you guys, I'm here to tell you, skinny is the way to go. Although these teenage babies don't yet have a post-pregnancy tummy shelf that needs a little stretch to accommodate, so I guess we will just have to wait until they see the light in about 15-20 years.
There are apparently other markers of being an Old and they include taking selfies from an upward angle (they hide my double chin, you little jerks) and using the LOL-cry emoji, which, you can pry from my cold, old, dead hands. Youths, have your fun, but never forget who came before you — and who pays for your unlimited data.
This article was originally published on