Here's A Spotify Playlist All About Butts In Honor Of My Girl Crush Tina Belcher
by Liz Henry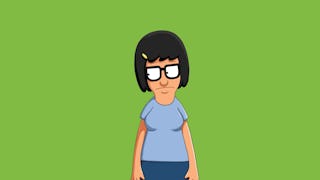 20th Century Fox Television
Welcome back to the ResistDANCE — our bi-weekly self-care playlist full of fun because we live in a dark, dark world.
The ResistDANCE is all about unconnecting for an hour, so you can find your groove, dance badly with your partner, and marvel at my amazing taste. If you have suggestions for future playlist themes, send me a tweet or leave a comment on our Facebook page. I will be reading them. We release new playlists on Fridays(ish).
This week's playlist is dedicated to the one and only Tina Belcher of Bob's Burgers.
The oldest child of Bob and Linda Belcher, Tina is unapologetically herself in every way. She loves butts, Jimmy Jr., erotic friend fiction, and being awkward and weird. I, myself, am awkward and weird. I also like songs about butts.
Tina is a loyal sister, loving daughter, and visually challenged. She's creative and confident, a lover of horses, boys, and music. Not afraid to show her sensual side, she goes after what she wants and possesses the kind of self-esteem most of us spend a lifetime acquiring. Tina likes to keep it humble by saying, "I'm no hero. I put my bra on one boob at a time, just like everyone else." She is girl crush-worthy in every way.
In honor of Miss Tina Belcher, this week's ResistDANCE playlist features 20 songs and almost 80 minutes of booty-shaking beats, R&B, and even some classic rock and disco. The "Butts" playlist includes Sisqó's "Thong Song," Destiny's Child's "Bootylicious," and Queen's "Fat Bottomed Girls."
You'll also find songs by The Beastie Boys, KC And The Sunshine Band, Wiz Khalifa, Jennifer Lopez, and Pitbull, and of course, the golden booty standard: Sir Mix-a-Lot's "Baby Got Back."
Enjoy dancing, resisters.
This article was originally published on