I Was In My 40s When I Tried A Vibrator For The First Time
by Alicia Stein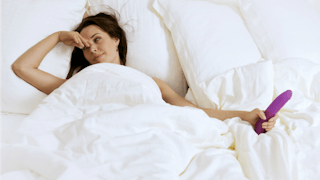 IPGGutenbergUKLtd / Getty Images
For the first 40 years of my life, I never really considered using a sex toy. I didn't have trouble orgasming alone or with my husband, so what would be the point? And to be honest, the idea of having a non-human object make contact with my genitals during sex just felt … weird. If I wanted to have a cold, unfamiliar object stuck inside me, I could go to the gynecologist for that. Hard pass.
Those of you who use sex toys on the regular must think I'm bonkers, right? What's the big deal? I know, but that's just how I felt. After 40 years of enjoying sex and masturbation without sex toys and feeling quite satisfied with it, the thought of introducing something new into the mix simply seemed unnecessary – and a bit of a nuisance. "I'm too old for that shit," I'd think.
But that became the exact reason I decided to go for it. The older I get, the more set in my ways I become. I am hesitant to try new things, meet new people, go new places, or, ummm, put new vibrating toys into my vagina. And that is not the kind of middle-aged woman I want to be.
So, soon after my 41st birthday, I brought home a few new friends (which were kindly gifted to me for review purposes). The first, the Sona, by Lelo, is a clitoral stimulator that looks like it could also be used as a nice mini back massager.
The second, also by Lelo, is the Soraya, a "rabbit vibrator," which is built to stimulate both your clitoris and vagina/G-spot.
That last is the Crescendo, a "mystery" vibe that can be bent into all different shapes, used alone, or with a partner, and can stimulate the clitoris/vagina/G-spot at the same time if you mold it just right.
I will freely admit that it took me forever to even take these babies out of their packaging. I'm a little tech-phobic and I was overwhelmed at the idea of charging them up and connecting them to my phone (which you can do with the Crescendo). Also, where the hell would I charge them without my nosy kids coming around to find them? That part was kinda stressful and absolutely un-sexy.
But I got it done. Well, actually, I had to make my husband take over the "charging the sex toys" job, which is ironic and ridiculously sexist, but it was what it was. If I was going to try this, I had to get the tools ready.
Read More: Amazon User's Vibrator Review Goes Viral – Scary Mommy
The first vibe I tried was the Sona, the clitoral stimulator. I tried it with my husband. It was cute and fun to try. But after a few minutes, it felt irritating to me. I don't know what it was. The pressure either felt too light or too intense, despite trying all the settings (so many settings). I tried it alone too, and had the same result. Using my own hands – which is what I've done forever – was SO much more satisfying. I couldn't relax while using the Sona, and releaxing is key to a good orgasm.
I had similar results with the Crescendo. I didn't like it for clitoral stimulation. I think maybe there are people who just don't go for that in a sex toy? Vaginal stimulation was pretty cool with it, but it didn't have the fullness I would have liked. I can imagine it being good if what you are looking for is more local stimulation inside – like if you want to stimulate your clitoris and G-spot and aren't as interested in full penetration. It just didn't excite me.
Read More: Target Now Sells Vibrators Online And In-Store – Scary Mommy
OK, you're probably starting to think I'm a total sex toy failure. Actually, I did have a bit more success with the Soraya! I used it while masturbating twice and it was actually super awesome and hot. I did have to push aside the clitoral stimulator thingie, which was kind of a pain, but not a big deal. The G-spot stimulator hit the exact right place and had the amount of fullness I liked. When I masturbate, vaginal stimulation is something I always wish I had more of, so this thing did the trick.
Will I use it again? Well, maybe. The thing is, I'm a busy working mom. The times I actually get to masturbate are pretty seldom, and super quick. I don't know if I'll remember to charge the thing. And to be frank, the idea of having to clean it when I'm done (which was pretty easy, but still a small chore), is a turn-off to me.
Still, I like the Soraya, and it even made its way into one of my sex dreams the other night, which I thought was adorable. I think that means I'm opening my heart up to it, and maybe it will soon feel less like a cold, unfeeling object, and more like a second lovah – which is kind of what it's supposed to be, right?
Even though I would say that my experience wasn't a slam dunk, it was positive. I learned that it can sometimes take a few tries to find a sex toy that works for you – and that not all of us like the same things. I actually assumed I'd like the clitoral stimulators more than the vaginal ones, since most of my friends used those. Not so at all.
Most of all, I learned that trying new things – even ones that must be inserted into my vagina – is a good thing for an "old lady" like me, and something I should do much more often.
Editors may receive samples and/or a share from purchases made via links on this page. All opinions are our own.
This article was originally published on