Why I Had All These Kids Anyway
by Kristen Downs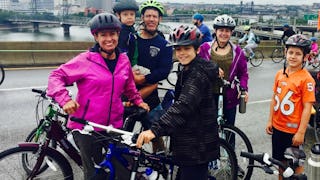 Kristen Downs
Why did I have all these kids anyway? Truth be told, I never questioned why we chose to have four children, nor did I regret all the drinks in Cancun on vacation with my husband that made a large family sound like a good idea. It's become more of a declaration in my life and I'm reminded every day why I had all these kids anyway.
I recently spent the day alone with my 8-year-old who was recovering from minor surgery. "Mommy, can we watch a movie?" he asked. That boy gets me with Mommy every time. He's the last of four and just hearing "Mommy," with his sweet pre-pubescent voice, validates my choice. Melt my heart with tender goodness, he says "Mommy" and means it, and I cherish his every word.
Fully aware I'd have three teenagers who'd push all my buttons while he was still in elementary school, I decided why not teeter on the brink of bonkers town with four children? I know all too soon he'll simply call me Mom, brushing off my hugs and kisses like his older siblings by the end of 3rd grade if history repeats itself. I hope I'm ready to move on.
I'd be lying if I didn't admit to manual labor around the house. Who needs a house cleaner with enough kids to clean bathrooms and vacuum? I now know household chores are exactly why I had all these kids anyway and I am finally realizing the fruits of my extensive labor. The list of responsibilities prominently hung in our kitchen is chock full of chores, almost enough to phase us out as parents.
Raising responsible human beings and equal spouses, capable of pulling their own weight is my primary duty, though not for the faint of heart. I get my fair share of Whine, Why and Waaah, every time they look at the goddamn list, but it's far more tolerable from the vantage point of a tall glass of wine (without the 'h'). If they forget, I simply refer to the list cause I know they can all eff'in read.
Forced Family Fun is waaaay more fun with a gaggle of kids. Sure, it can also be excruciating at first until the kids buy into the experience. I grew up with just one brother who was mostly a pain in the ass and still wants nothing to do with me.
"Look at all these siblings I birthed for you," I say all the time. "If you are sick of one, pick another," which is more than my husband and I can say to each other after 23 years of marriage. Lucky children.
From #FFF bike rides, bowling, board game night, to singing Christmas carols en route to chop down our Christmas tree in our relentless quest for fun, we are that family, a.k.a. the Griswolds. I swear my kids are going to be watching Vacation with their families claiming their Mom forced them to whistle "Zip-A-Dee-Doo-Dah" out of their a**holes. I'll be very proud.
We have a team, no matter what we do, from video games to outdoor activities. We consume the entire foursquare court, we can play three on three basketball and wiffleball and that's just on our block without neighbors. We are making Pokémon Go cool again and my kids can do raid battles as a team. You need team members? My house is a one-stop-shop and I can feed an army, please invite your friends!
Music is one of my favorite reasons why I had all these kids anyway. All six of us play piano; we have four trumpeters, two violinists, a couple guitarists (who also play ukulele), a clarinetist, a saxophonist, a trombonist, a marimba player and a partridge in a pear tree.
We are absolutely the home of the jolliest bunch of musicians this side of the nuthouse this holiday season as we scramble from concert to concert before winter break. Serenity now is simply an instrument solo and a cup of coffee in the morning before the chaos begins.
Sure, we're completely outnumbered. Financial responsibilities aside, the pros of this brief time in our lives far outweigh the sheer exhaustion involved. I now smile remembering the people who asked if I knew what caused all the pregnancies anyway, hardly funny when I could barely see my feet waddling to chase a toddler or two. Somehow I knew four was my number to create the family I always wanted, plus sex is fun. Why do you think I had all these kids anyway?
This article was originally published on