Dreaming Of A Getaway? We're Drooling Over These Las Vegas Hotels
by Alesandra Dubin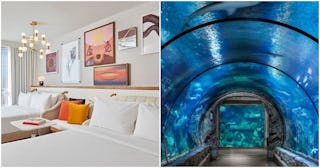 Hotels.com
"What are the best family-friendly hotels in Las Vegas?" I get asked that question a lot as a travel writer, twin mom, and deeply devoted Vegas fan who makes multiple visits to the desert destination in a typical year. I may be a tired-ass mom old enough to remember Trapper Keepers, but Vegas is where I remember just how fun I really still am. When it's a grown-folks-only trip, that means drinking too much and shooting craps with (moderate) abandon. But Sin City is super fun as a family vacation with littles, too — as long as you know how to do it. Importantly, that means staying in a fun and kid-friendly resort that welcomes and pampers the wee ones and their parents, too. To that end, here are the best hotels for kids in Las Vegas along with where to book and a typical starting price point.
RELATED: 252 Hilarious Jokes For Kids That Adults Find Funny Too
So go ahead — plan that family-friendly getaway you've been dreaming of. You deserve it.
Best Family-Friendly Hotels & Hotels For Kids in Las Vegas
RELATED: The Coolest, Most Family-Friendly Getaway Spots In California If You're Itching For A Road Trip
This article was originally published on