I Finally Found A Vibrator That Helps Me Orgasm
by Alyssa McBryant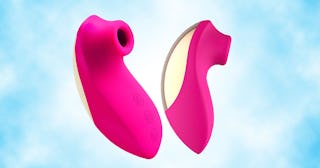 Scary Mommy and Amazon
Like lots of women, I have trouble having an orgasm. I take a ton of medication, and several of them cause sexual side effects. Layer them on top of each other, and let's just say that coming isn't exactly my strong suit. Because of that, I have an extensive collection of vibrators.
I could describe them all, but let's just face it: I have all the vibrators, including one of those wand things that are more like a household appliance than vibrator. Try hiding that from your family. It looks like a giant space dildo. All of these work okayish. They get me off. Eventually. Then I heard about something else.
It's a vibrator that sucks on your clit. I'll repeat that for the folks in the back: that motherfucker sucks on your clit like a vacuum or a really, really skilled partner.
I had to try one.
So I looked around Amazon and found this bad boy for $23.95 on Prime: LONOVE Clitoral Sucking Vibrator. I figured I didn't have much to lose for that price, and the reviews were, um, a little effusive. Four and a half stars with 110 customer reviews. They included such things like "oh, yeah yeah yeah!!!" "Wow!! I've played with a fair amount of sex toys and this is hands down — my favorite! It's small but mighty!" "You need clit stimulation? LOOK NO FURTHER!! This toy is for you!!" "What can I say besides wow."
I was totally sold. I waited not-so-patiently. When it finally came, I had to charge the stupid thing (via USB port – this gives you about an hour and a half of use). That pissed me off to no end. These things are supposed to come ready for action, manufacturers.
But let me tell you, it was worth the wait.
Holy hell. I normally take forty-five minutes, if it happens at all. With this vibrator, it took me five.
Bonus: all the settings on this vibrator rock my face off. But if I really, really want to get it done, I use the one that sounds exactly like Excite Bike.
This thing is a fucking revelation. Literally.
Many of the reviewers say they only need the lightest setting in order to have a mind-blowing orgasm. A veteran of more high-powered vibrators, I can use, um, the more serious settings.
I sometimes use this on the lowest setting just because it feels fucking good. I might not even want to have an orgasm. I just like it. I'll put it on there before I go to sleep, and once I feel like I'm about to drop off, I stop. It helps me get to sleep faster. Go figure.
Bonus: it also stays in place really well hands-free. Several of the reviewers agreed with me. I like to keep a hand somewhat near it, but that's because it also feels spectacular if you pull it up juuuuuuust a little bit. But I'll let you figure out the why for yourself.
And speaking of super fantastic: use it with lube. No, seriously. This is a toy that calls for lube. You're going to want it down there a while (if you use it once, you're going to want to use it again, trust me), and if you don't lube up … well, I'll leave what might happen to the imagination. And if you overuse this vibrator (I'm not saying I have), you might have some aches around your, um, area.
I know I'm not alone in my orgasm challenges. In fact, only about 20% of females can orgasm during intercourse because we need direct attention paid to our clitoris. Which is where toys like the LONOVE Clitoral Sucking Vibrator so fantastic.
Twenty-four bucks is worth getting your mind blown.
We are Scary Mommies, millions of unique women, united by motherhood. We are scary, and we are proud. But Scary Mommies are more than "just" mothers; we are partners (and ex-partners,) daughters, sisters, friends… and we need a space to talk about things other than the kids. So check out our Scary Mommy It's Personal Facebook page. And if your kids are out of diapers and daycare, our Scary Mommy Tweens & Teens Facebook pageis here to help parents survive the tween and teen years (aka, the scariest of them all.)
This article was originally published on